For Some Military Families, Hope, Comfort and Good News Comes with a Red Cross Smile
Story by Colleen Hathaway / Red Cross Cascades Region
It's not every day that Heidi Shuford can deliver good news.
As a Red Cross Service to the Armed Forces (SAF) volunteer for the last five years, Heidi has had the unfortunate but much needed job of sharing the news of illness and death with United States military service members and their families.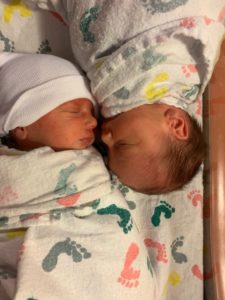 From their first day of enlistment, members are eligible for Red Cross assistance. Heidi's job is to deliver emergency, verified news to them from family members back home.
Sometimes they can take leave and come home to visit their loved ones in the hospital or to attend a funeral.
But sometimes they can't. It is up to the service member's commander to make that decision.
There are all kinds of cases, Heidi says, many of which are time sensitive and sad. Her work entails acting expeditiously, prioritizing the messages to be delivered, communicating with the service member's commander, operating within the various time zones depending on where service members are stationed, and throughout all of that, being that warm and friendly voice on the other end of the line.
So it was with delight that Heidi received an unusual opportunity to share some very good news.
The wife of an infantryman stationed in Ft. Benning, Georgia had just given birth to healthy twin boys. The mom, Katherine Honeycutt, who lives on the west coast, knew to contact the Red Cross to relay a message because her husband Beckett had told her about the SAF program. He knew he wouldn't be able to come home, but he knew he could talk to her on the phone. Heidi spoke with Beckett's drill sergeant and arranged for Katherine and Beckett to FaceTime each other. Katherine says it was all arranged very quickly.
But Heidi wanted to do something special for this occasion. With the help of her supervisor, Regional Program Manager Chelsea White, they collected items such as diapers, stuffed animals, balloons, socks, and of course, first aid supplies. Heidi was excited to hand-deliver the gifts to Katherine at her home.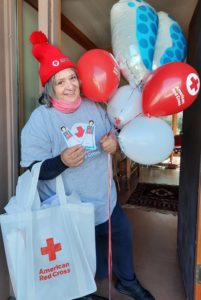 Heidi describes Katherine as soft spoken but also as a mom who looked like she had everything under control, with the twins, Henry and Lucas, as well as her daughter, who loved the balloons according to her mom.
Katherine was grateful for Heidi's visit, saying "It was an awesome experience," to celebrate the twins and receive such thoughtful items. In particular, she was happy to receive an infant guide on safety, something cool that she didn't have. Katherine says she would definitely recommend the SAF program to other military families.
Heidi really enjoys volunteering for the Red Cross, including her current role as a volunteer lead for the Hero Care Center. She has made a lot of friends.
"They are my people," she says of Red Cross staff and volunteers, who she believes have a similar, positive outlook on life.
Heidi doesn't have a military background, but many of her team members, whom Heidi calls, "top notch" are military veterans. As a Red Cross volunteer, she says she is often helping people who have had their worst day ever.
"We care. We have empathy. When helping someone, you see their humanity."
The Red Cross serves two million military personnel around the world every day, including all military installations in the U.S. and 36 overseas installations. This includes verified messages regarding emergencies at home. Local Red Cross chapters brief more than 787,000 service members and their families each year through the "Get to Know Us Before You Need Us" program.
If you'd like to connect with the Cascades Region SAF team please call (503) 528-5680 or email CascadesSAFIS@redcross.org.