This Neighborhood Went "All In" for a Successful Blood Drive
Story by Harriet Vanderbilt / Red Cross Cascades Region
During the pandemic when everyone seems to be distancing themselves from others, the business community on a single street in Bend, Oregon came together – safely – for a wonderful cause.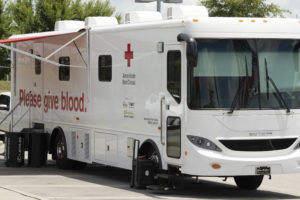 They held a neighborhood blood drive.
Mike Pearson has been hosting a blood drives with the support of his employer and coworkers at Thermo Fisher Scientific for more than five years now, but he knew the program could be expanded and reached out locally for more support.
And in true Red Cross style, three nearby local businesses quickly rolled up their sleeves and opened their hearts to help.
While the January 21, 2021 blood drive was hosted by Thermo Fisher Scientific, with the support of 10Barrel Brewing, Combined Communications, and the Trampoline Zone, it really felt more like a community family coming together to help others.
"The location at the Trampoline Zone was so large that it was well suited to host a safe, socially distanced, blood drive and the team there is so amazing that we knew it would be the perfect place to host the event," Pearson said.
'Give a Pint – Get a Pint' was all the advertising needed to draw donors to sign up.
All donors received a voucher for a free pint of their choice at 10Barrel Brewing. Donors simply scheduled an appointment ahead of time by calling the Red Cross or visiting the Red Cross website.
"The roster filled up so quickly," exclaimed Mike.
With the success of this past drive, and the amazing feeling that comes from helping others, the group is energized to host a follow-up drive on Friday, June 11th that they are affectionately calling the 'Blood Drive Block Party'.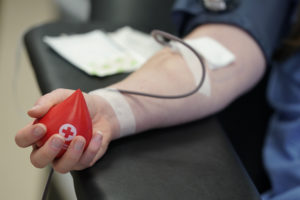 "We all want to expand this drive and we're confident we can do it," declared Mike. "With such wonderful support and so many selfless donors, I'm confident we could expand the drive to two buses and get at least 40+ willing donors to join our cause."
"I appreciate the importance of giving," shared Mike. "Donating blood gives a person a good feeling. It's an easy and selfless act of kindness. A simple 30 minutes of your day could be the gift to someone in need."
The neighbors are lined up to lend a hand at the next Block Party Blood Drive, Friday, June 11th at the Trampoline Zone. 10Barrel will once again offer "A Pint for A Pint" vouchers and Combined Communications will be helping with the local advertising.
In the area and want to participate? The drive is hosted by Thermo Fisher Scientific and you call 1-800-RED-CROSS or visit RedCrossBlood.org and enter the code "ThermoFisherBend".