Binational Health Week 2021 Highlights Collaboration Between Red Cross and Community Partners
Story by Harriet Vanderbilt/Red Cross Cascades Region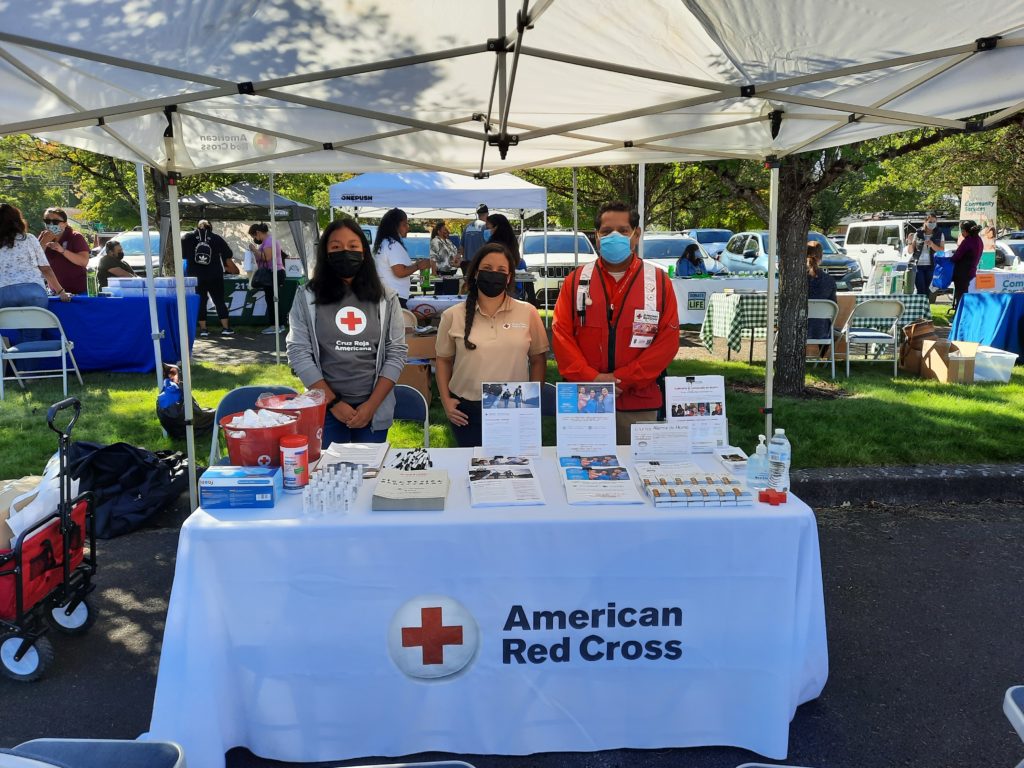 Binational Health Week was created 20 years ago as a week-long celebration.
Over time, it has become a month-long series of community-focused activities each October. The objective of these many events, is to raise awareness to the unique health care challenges of Latinos living in the Unites States and Canada.
Binational Health Week works to bring together resources to help reach the most vulnerable people in the community, many who have no medical coverage. Thousands of volunteers, along with representatives of government agencies and local organizations, come together to conduct health-related activities.
The Red Cross Cascades Region became involved in the celebration for the first time this year, following a remote event in 2020 due to the COVID-19 pandemic. This year, the Cascades Region partnered with the Mexican Consulate in Portland. Red Cross volunteers were invited to attend fairs in McMinnville, Portland and Cornelius. The Portland event was held at the Consulate office.
Chelsea White, Service to the Armed Forces and International Services Officer, worked with the Mexican Consulate to establish the partnership.
"The national Red Cross drafted an MOU with the Mexican Embassies and Consulates nationwide that helped make our local partnership a reality," stated White.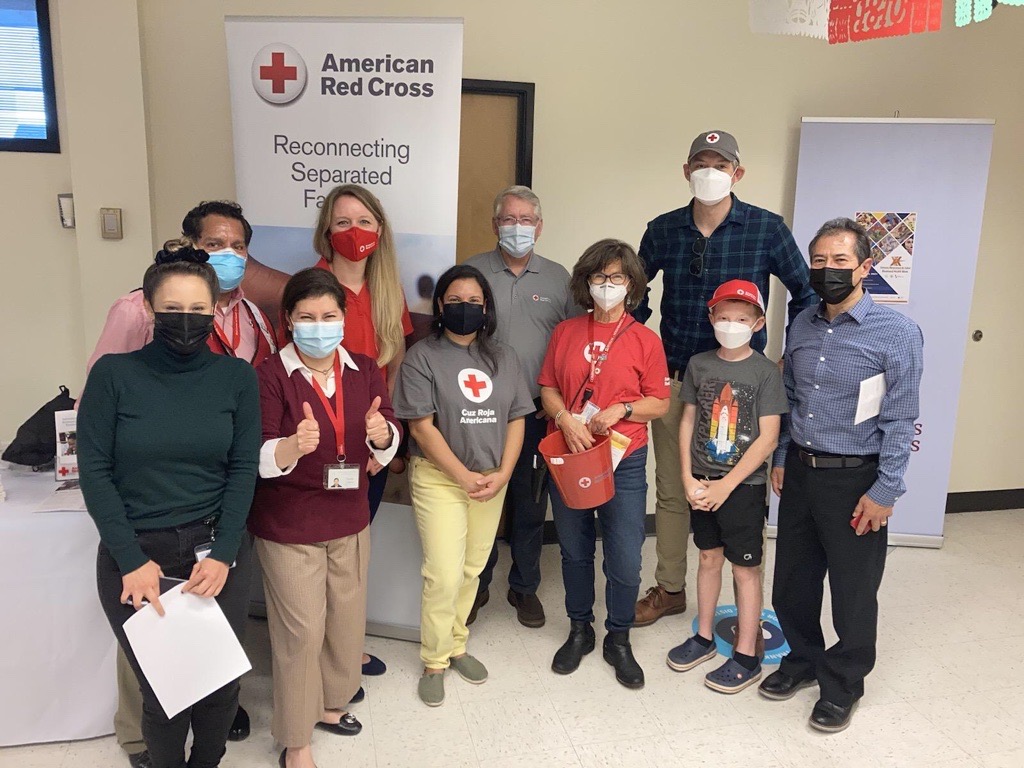 "The Cascades Region wants to recruit more Spanish speaking volunteers to help reach out to a bigger segment of the Latino community," according to White.
This desire is echoed by Cascades Region volunteer Marisa Bevington, who attended the Portland and Cornelius events as a native Spanish speaker. She worked alongside Spanish speaking volunteers Roman Perez and Raiza Spratt, who were there to answer questions. Both are also Disaster Action Team (DAT) members who help support those impacted by home fires.
A key partner for the event was the Tualatin Park and Recreation Center, along with the Oregon Health Authority. Areas were set up to offer free flu shots, free COVID shots and free COVID tests.
Attendees were interested in learning more about all the various things the Red Cross does, which DAT team members were there to answer questions. Cascades Region volunteers also answered many questions about the COVID vaccine in connection to blood donation.
"The Cornelius event was really a celebration!" said Bevington, who added that many families attended.
"There was a stage with dancing along with a Mariachi band. There were two food trucks with many tasty local offerings. We gave out many gifts. All the coloring books were gone and most of the stress-relieving footballs. Preparedness books, survival blankets, pens and sanitizers were also handed out."
Home fire prevention and safety information was available from Red Cross volunteers, including offering free smoke alarm installation to each family. Cascades Region volunteers would then go to each home and do the installation, following COVID safety protocols. The volunteers would also help educate the homeowners on proper maintenance of the alarms.
Bevington impressed upon the attendees importance of reaching out to the Red Cross in times of need.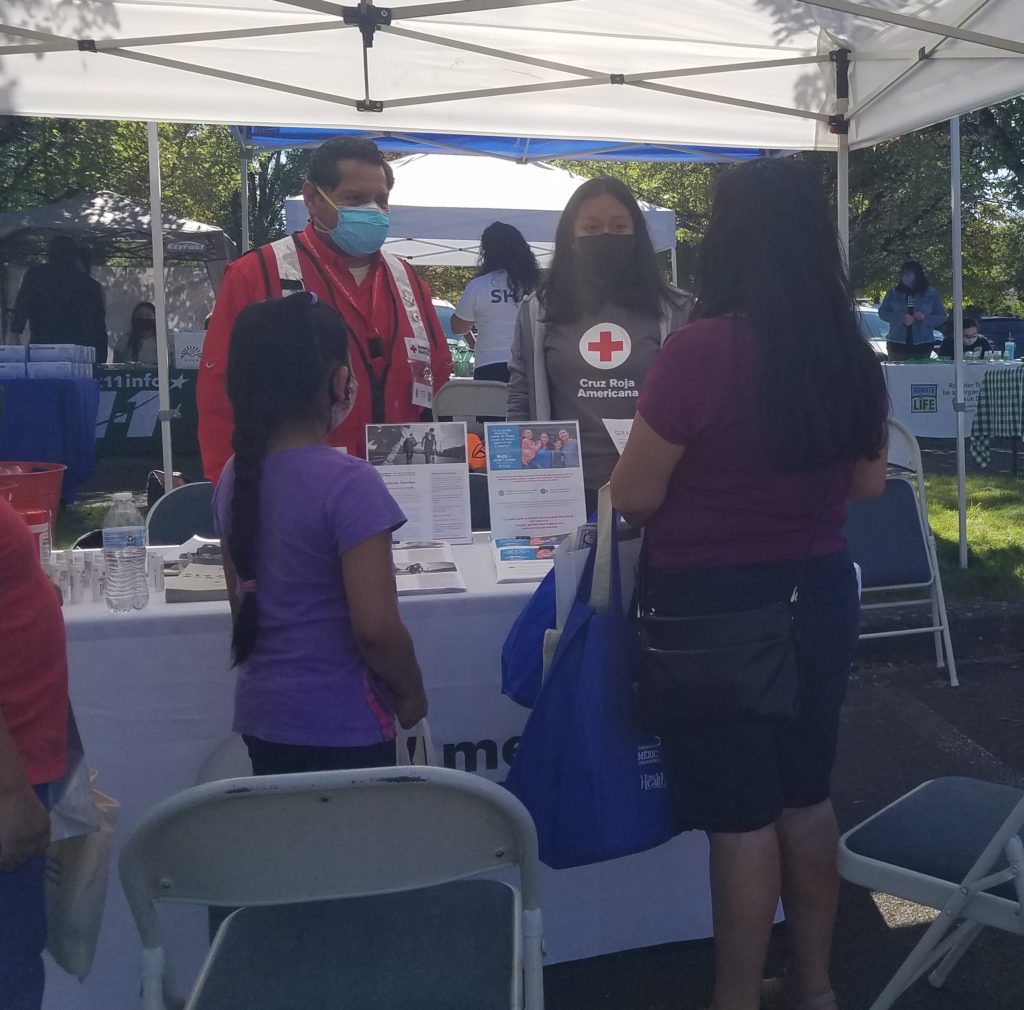 "Don't be afraid to go to a Red Cross shelter. The Red Cross welcomes everyone. Come to us. We are here to help!"
As the Red Cross participation grows in future years, Bevington would love to see hands-on free classes for the Latino community to provide basic life-saving training and disaster preparedness. She and White would eventually like involvement in aid to refugees.
If you are interested in joining the Red Cross as a volunteer, visit RedCross.org/volunteer to learn more.