Cascades Region chapters rev up support to raise funds for new blood transport vehicles
Story by Harriet Vanderbilt/Red Cross Cascades Region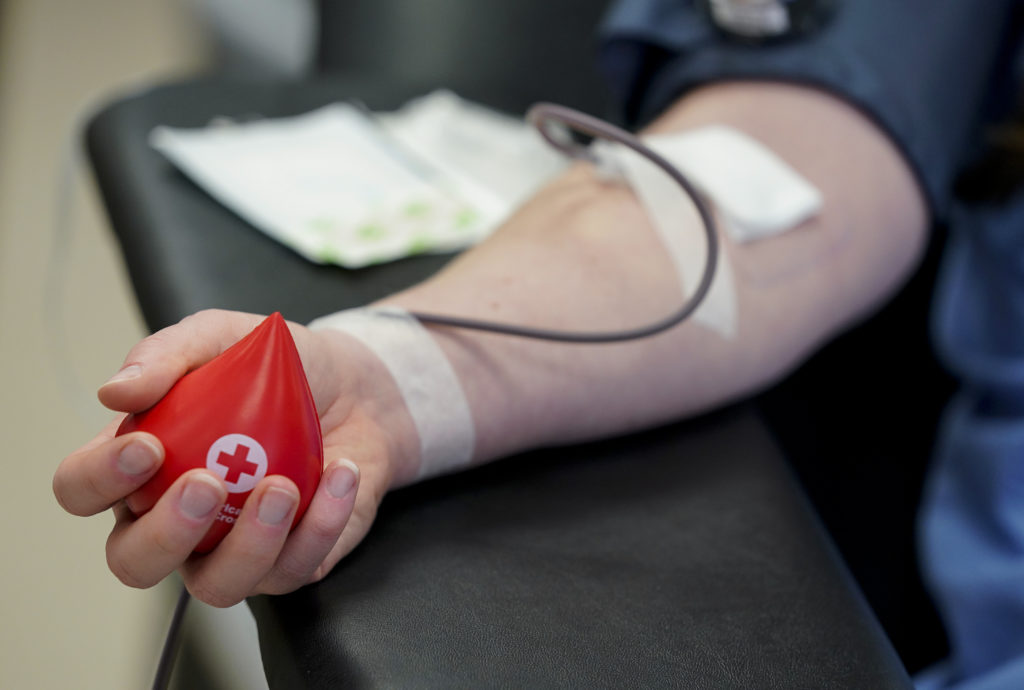 Every 2 seconds, someone in the U.S. needs blood, and the American Red Cross delivers more blood to patients in need than any other blood bank. Nearly 40 percent of the blood supply, in fact.
To accomplish this, every day across the country the Red Cross hosts more than 500 blood drives. Our Community Emergency Transport Vehicles are the heartbeat of this effort, logging nearly 1 million miles a week nationally.
Once collected from our generous donors, blood is transported for testing, processing and storage. It is then delivered to patients in need at hospitals and cancer treatment centers. From blood donor to blood delivery, these transport workhorses drive critical care with lifesaving blood.
The miles add up. Many of the community emergency transport vehicles have seen better days and often have over 200,000 miles. Each vehicle requires ongoing maintenance. To fulfill our mission, hundreds of community emergency transport vehicles must be replaced nationwide annually.
Three chapters in the Cascades Region are in the midst of raising funds for several new transport vehicles.
Carisa Hettich is the Executive Director of the SW Oregon chapter, which is based in Eugene. The chapter covers 11 counties and many miles. Their transport vehicle is among those needing to be replaced. The fundraising campaign began in July and is already accelerating toward its goal.
Board Chairman Sue Long wanted to "do something big" that would be memorable "and would have a lasting impression." The board bought into the mission and delivered a success.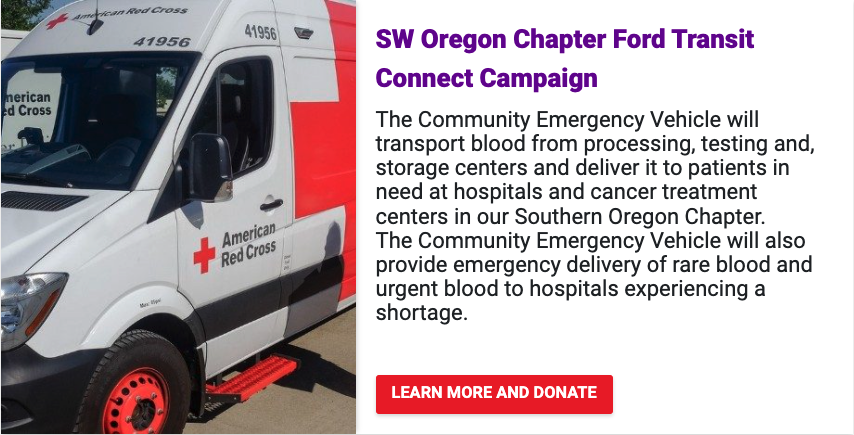 Together the volunteer board and Cascades Region staff collaborated to create a fundraising website and resources to help board members reach out to their networks and ask for financial contributions. Gifts ranging between $100 and $15,000 were received. Carisa excitedly proclaimed that "in just three months, we received enough donations and pledges – which we believe will fully fund our chapter's transport car."
SW Washington chapter Executive Director Michael Drake says through donations and pledges, they're working hard toward the $30,000 necessary to replace their blood transport vehicle. "We're thrilled to have an anonymous donor who has pledged to match donations up to $10,000," adds Michael.
The Central and Eastern Oregon Chapter of the Red Cross is also well on its way to collecting the funds necessary to replace its blood transport vehicle.  
"Just last week, one of our current blood transport van's transmission broke down in the Olympia, WA area." Michael says that "one of our SW WA volunteers was driving and had to get a ride from a donor. While the blood delivery was made, it's a great example on the need of having new, updated vans!"
The Red Cross Cascades Region of Oregon and SW Washington has approximately 3,600 volunteers. Many of whom help ensure that the blood supply is safe and stable by driving our transport vehicles.
You can start your volunteer journey by visiting redcross.org/volunteer.