Blood drive turns teenager's cancer journey from devastation to action
Story by Chelsea White/Red Cross Cascades Region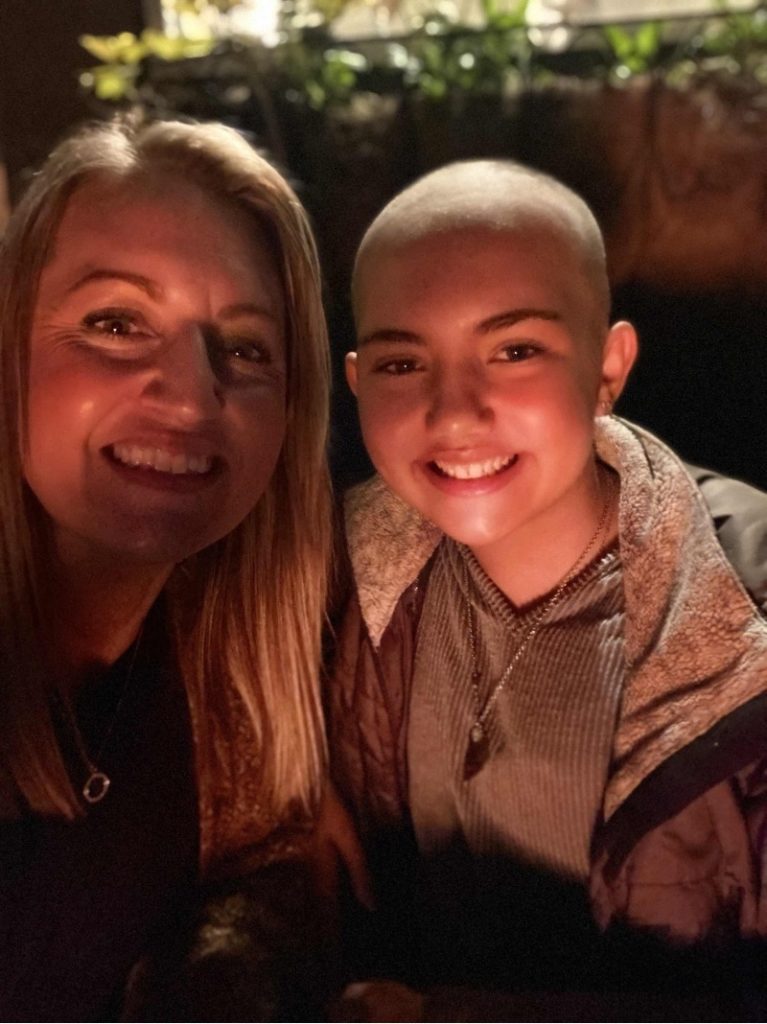 "Are you telling me that this is cancer?"
It's a question no mother wants to ask her 12-year-old daughter's doctor after receiving the results of an X-ray.  
Three months prior, Kate's daughter Sabina had participated in a basketball camp in June 2021 and had to quit early because of a severe pain in her right leg, just above the knee.
The pain persisted, with diagnoses of a pulled muscle or growing pains by Sabina's pediatrician. Then, in late August, Sabina collapsed going down a stair, resulting in Kate's demand for further testing. Doctors finally diagnosed Sabina in early September with Osteosarcoma, a type of bone cancer with an occurrence rate of 4 in one million per year, most often among children and adolescents.  
Before cancer, Sabina loved basketball and dance, acting in plays, and writing stories, songs, essays, and books. Many describe her as wise beyond her years, with preternatural maturity and wisdom.
"The cancer journey has brought the family closer in deeper ways, we've gone into deeper, more meaningful spaces with each other, and Sabina can think hard about what it means to be alive," Kate said. 
Sabina's treatment plan involved seemingly endless rounds of chemotherapy and ultimately surgery to remove the cancerous tumor.
There were two instances during this time that Sabina received lifesaving blood transfusions. First, when her platelet count was low and she suffered from nosebleeds and a high fever, she went through the traumatic experience of being sent to the emergency room and received a blood transfusion. And again, after resection surgery in December to remove the tumor in Sabina's femur and replace her lower femur and knee with internal prosthetics, when she came out of anesthesia, Sabina crash-landed, went into shock and was shivering.
The platelets and blood instantly brought her back.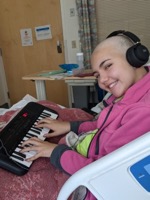 In one of her journals, Sabina says "chemo takes a toll on me mentally, physically, and emotionally." Kate describes the beginning of treatment with words like "devastation", "denial", and "suffering". But they both describe a shift from denial to acceptance and credit the power of taking action. Sabina has been working to raise awareness and funds for pediatric cancer research. At a fundraising event at a local high school, Sabina read a speech she wrote about kids like her in the children's cancer ward and said "they're filled with sadness. But these kids are also filled with hope. They're hopeful that there won't ever have to be a new patient to walk through the doors, that their neighbors will someday get to go home for good."  
Kate describes how easy it was to take action by hosting a blood drive. "Sabina had just received a blood transfusion and I knew of the national blood shortage, so I thought I need to host a blood drive. The Red Cross made it supremely easy for a newbie like me, I'd never even donated before, let alone hosted a blood drive."
Kate says Red Cross representatives, Marcea and Michelle paved the way for a successful drive with tip sheets, the app, a QR code, and phone conversations. Sabina wanted to name the drive "Give Blood. Give Hope" and they collected enough blood to save up to 117 lives. 
Since surgery, Sabina is recovering extremely well. Her surgery resulted in clear margins around the area where the tumor had been, the tumor was 99% deadened by the first three months of chemotherapy, and she has a foot-long scar that she jokingly calls her "shark bite". As of March 2022, Sabina has just 5 weeks of chemo left and doesn't need crutches or a cane to walk anymore. She is excited to go back to school in September for her first and last year of middle school after a long couple of years of online learning during the pandemic and cancer treatment. 
When asked what she would say to people who are thinking about donating blood, Sabina says "it's one of the best things you could do. You never know who might need it, how old the patient is or the use, but no matter what it's always for a good reason."
Kate says that each time she saw that bag of blood going through a tube to save her daughter's life, she whispered "thank you" to the person who donated it.
"I want you to picture the recipient. There's a mom and a little girl saying thank you."