Disaster Services Volunteer Answers the call for Shelter Help
Harriet Vanderbilt/Red Cross Cascades Region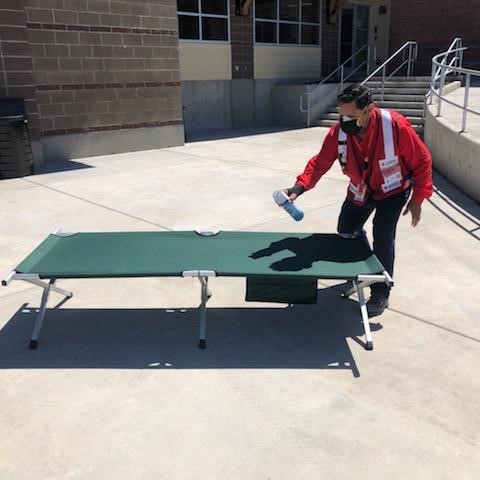 "I signed up on the weekly response on-call list on Volunteer Connection" recalled Cascades Region volunteer, Roman Perez. 
"On Wednesday, August 3rd, I received a call to go to Dufur High School to help set up a shelter." The Miller Road Fire nearby began on Tuesday and had grown to over 10,500 acres.
The fire was centered along the plateau between Tygh Valley and Maupin. Roman explained that "this area is mostly golden wheat fields, ripe for grassland fires. Small agricultural towns dot this landscape south of The Dalles and west of Tygh Valley and Maupin.  
Perez, along with fellow Red Cross Disaster Services volunteer and friend Holland Goleg, responded to the Emergency Manager's request for a shelter. 
"We arrived around 8:00 AM on Thursday and met Chris and Amber Schwartzkopf, shelter team leaders."
There was plenty of water as well as snacks available. While there were no shelter residents, one couple arrived to inquire about their home. They were evacuated, and the sheriff told them their had home burned down. They were being cared for by local friends.
Because the night shift fire crew was using the gymnasium to sleep, the shelter was set up in the cafeteria. After arriving at the shelter, Roman, who holds a Government Liaison GAP, was asked to go to the Incident Command Post (ICP) for an update on the fire which included location, direction, additional evacuation orders and the like. With no cell or WiFi signal at the ICP, Roman had to return to the shelter to relay the updates.
The shelter staff asked about the feeding plan in case evacuees arrived, which was to receive food from The Dalles.  
"We thought that tapping into The Dalles would be perfect. Then, a small fire broke out along the route we planned to travel that caused us to make a new plan."
When a couple arrived from The Dalles in a travel trailer, the group needed to act quickly. Finding food proved to be a creative effort. Roman and Holland asked the local grocer and sandwich shop proprietor what they could do on short notice. The sandwich shop made sandwiches and the grocer volunteered to stay late and make basic hot meals if needed.
The fire in The Dalles was extinguished and the couple in the travel trailer was able to return home. On Thursday evening, the volunteers posted a sign with emergency names and phone numbers. 
"Chris and Amber were staying at a local B & B. Holland and I went to a motel in The Dalles" stated Roman.
On Friday morning, at the 10:00 a.m. briefing, Tygh Valley and Maupin were both at Level 1 evacuation levels. With no communities in Evacuation Levels 2 or 3, the shelter was packed up. 
Perez was impressed by the number of personnel involved in sheltering. In addition to the team leaders, he met Carrie Sammons, regional leadership on call and Government Operations lead. He also worked with Michelle Hamrick, Senior Disaster Program Manager, Jane Burke, Disaster Health Services, and Patty Smith, Disaster Program Manager among other responders.
"This was my first shelter experience. I was thrilled to be working with so many passionate people. The townsfolks were so very appreciative. This was excellent on-sight learning, a "live simulation". I saw all the nuts and bolts, all the pieces that fit together. Fortunately, no one needed our services. I was humbled by the fire presence. In addition to Portland Fire and Rescue, there were crews from Lincoln City, Banks, Gearhart, Cornelius and so many other small towns that came to help.  The townsfolk were so appreciative we were there."