PJ Johnson/Red Cross Cascades Region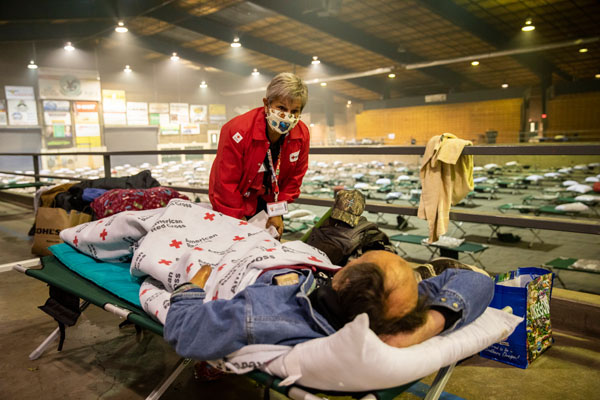 I recently met with Nadine McCrindle, Executive Director and Patty Smith, Disaster Program Manager for Territory 2, Central and Eastern Oregon.  We were discussing the Be Red Cross Ready program and their plans to expand it both in person and virtually throughout their territory.  Then we discussed the importance of being ready for a disaster before it strikes.
Nadine pointed to examples from the Juniper Ridge Fire of 2020. She recalled one family that had a pick-up truck with separate crates. One crate was for food, another was filled with family photos, and still another had their animals' necessities, blankets, and toys. They were much calmer than other families who had to hastily grab personal items as they were being told to evacuate their home.
When I volunteered at a wildfire evacuation shelter in Redmond, Oregon during 2020, I met people who said they were awakened in the middle of the night with no notice or time to gather their belongings.  They left in a hurry leaving their medications, wallets, purses, and phones.  Some even left without shoes.  They were feeling anxious, confused, and exhausted. 
You can take three simple steps to make sure you are "Red Cross Ready" should a crisis occur – (1) get a kit, (2) make a plan and (3) be informed.
1. Get a kit. If you've ever fumbled to find a flashlight during a blackout, you know what it feels like to be unprepared. Get your emergency preparedness kit ready now. Here are some items you should include:
Three-day supply of non-perishable food and water—one gallon per person, per day for drinking and hygiene purposes
Battery-powered or hand crank radio (NOAA Weather Radio, if possible)
Flashlight and extra batteries
First aid kit, medications and medical items
Copies of all important documents (proof of address, deed/lease to home, passports, birth certificates, insurance policies)
Extra cash
2. Make a plan. Talk with household members about what you would do during emergencies. Plan what to do in case you are separated, and choose two places to meet – one right outside your home in case of a sudden emergency such as a fire, and another outside your neighborhood in case you cannot return home or are asked to evacuate.
Choose a contact person from out of the area and make sure all household members have this person's phone number and email address. It may be easier to call long distance or text if local phone lines are overloaded or out of service.
Tell everyone in the household where emergency information and supplies are kept.
Practice evacuating your home twice a year. Drive your planned evacuation route and plot alternate routes on a map in case main roads are impassable.
Don't forget your pets. If you must evacuate, make arrangements for your animals. Keep a phone list of "pet friendly" motels/hotels and animal shelters that are along your evacuation routes.
3. Be informed. Know the risks where you live, work, learn and play.
If you live or travel often to areas near a fault line, learn how to prepare and what to do during an earthquake. If summer brings to mind not just beaches and picnics but also tropical storms and hurricanes, arm yourself with information about what to do in case one occurs. Remember that emergencies like fires and blackouts can happen anywhere, so everyone should be prepared for them.
Find out how you would receive information from local officials in the event of an emergency.
Learn first aid and CPR/AED so that you have the skills to respond in an emergency before help arrives, especially during a disaster when emergency responders may not be as available. Sign up for a class here.
Download our apps. Download the free Red Cross Emergency App to receive emergency alerts and information about what to do in case of a disaster, as well as locations of shelters. The Red Cross First Aid App puts information in your fingertips on how to help. Users can find all of the Red Cross apps in smartphone app stores by searching for the American Red Cross or going to redcross.org/apps.
Read more about all of the readiness programs the Red Cross has to offer by clicking here.