Everyday People Showing Strength After Hurricane Ian
Rebecca Marshall/Red Cross Cascades Region
"To help is to live. Not to help is to die. When I saw the Red Cross trucks, I saw life."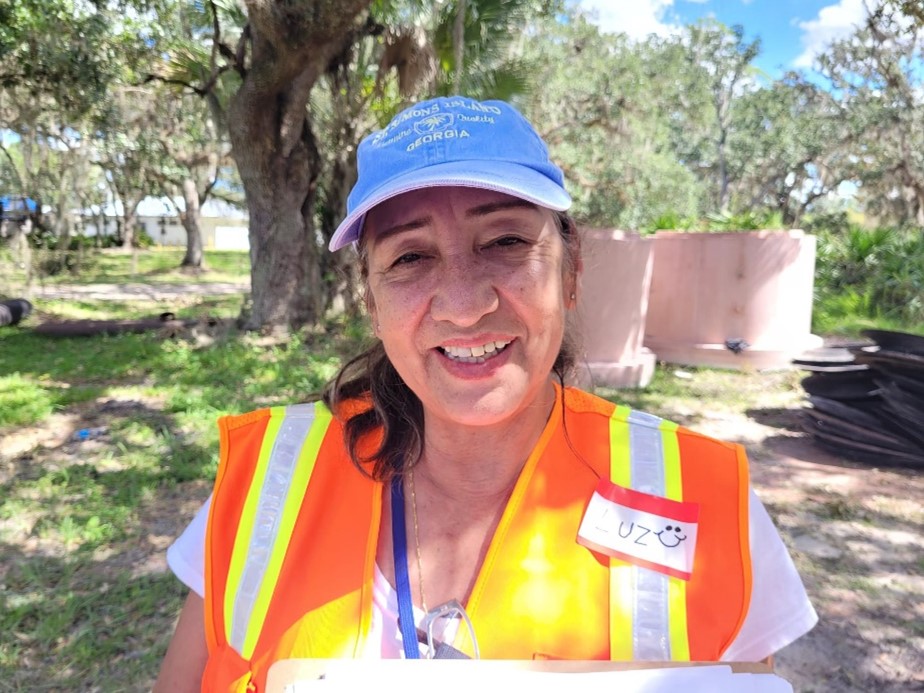 Those were the words of Luz Beltran who has become a leader in her community at the Sherwood Forest RV Resort in Kissimmee. Like so many others across the state, Luz rode out Hurricane Ian inside her mobile home. "It was terrifying."
Her streets had become rivers, existing rivers had become small lakes, and alligators and snakes were swimming around in the dirty water.
When it was safe to come out, she saw that most of the homes were flooded, except hers. So, she put on her rubber boots and got to work. Beltran, who calls herself a "proud American citizen," has been in the United States for 22 years and says she's always been the one to help when things got tough.
Beltran is from Columbia and in 1985, when she was just 21 years old, she helped rescue people who were trapped in the landslides and floods of Armero, the worst natural disaster in the history of Columbia. She carried children on her back in water up to her neck. Her brother, who was in the military, told her she couldn't go to help, but she insisted and finally he agreed. She even had a seat at the table when the government and other rescue agencies met to discuss strategy. Beltran does not mind being in the thick of it.
I had a chance to meet her one week after Hurricane Ian struck. When we pulled up in our Red Cross vests, she said over and over "You are a blessing, the Red Cross is a blessing" as she stood in the shadow of two large Red Cross feeding trucks where volunteers were handing out food.
She told me that right after the hurricane, people drove to her neighborhood, but just to get a good look at the damage and not to offer help. "The Red Cross was the first agency to come in that actually offered help."
She then asked me if we could talk where it was quiet. We walked away from the crowd and over to a large, swollen pond. She showed me how far the water had come up, telling me, "I'm just focused on the flooding now." "The houses are still flooded, and we need help."
She put her hand on her forehead and said: "I have to be strong for these people." That's' when she broke down into tears. It was a moment of vulnerability as we stood under a tree. I asked her if I could hug her. It was then I realized the power of the Red Cross hug. I let her know we are there for her. She thanked me, took a deep breath, and her big personality returned as we walked back to the Red Cross feeding trucks. The last thing she asked was how she can become a Red Cross volunteer. She was ready to trade in her orange vest for a red one.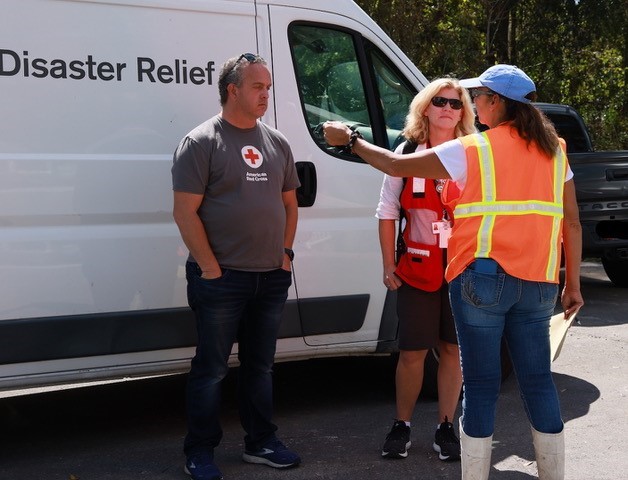 The Red Cross delivered 500 meals to the community that day and plan to be back to do it again tomorrow. It's what we are doing in neighborhoods across Florida and it takes strong people like Luz Beltran to help make it all happen.
As Regional Disaster Officer for Cascades, most of my deployments have been in region. This is the first time I've had a chance to help in another part of the country. I'm amazed at how far reaching the impact has been from Hurricane Ian. I am also honored to be part of it.