Blood Donors Saved Her Grandchildren, Now She's Rolling up Her Sleeve to Give Back
Olivia Wolf/Red Cross Cascades Region
"We have a whole bunch of miracle babies in our family," says Pamela Richardson, a Red Cross blood donor and a grandmother of five. "They're my big driving force right now."
Though Richardson has donated blood on and off since high school, her commitment to being a regular donor strengthened after her two grandchildren were saved by transfusions.
In November 2019, Richardson was preparing for the arrival of her first grandchildren, twins, who were due in February. Her excitement was soon replaced with dread when she learned that her daughter, only 27 weeks into her pregnancy, was being rushed to the ER. Infants born before 28 weeks of pregnancy are considered extremely premature and risk developing fatal complications and lifelong disabilities.
Clark and James survived the birth, but James soon developed a brain bleed and was transferred from a hospital in Eugene to OHSU in Portland, where he received two blood transfusions. After three months in the NICU, James was healthy enough to reunite with his family.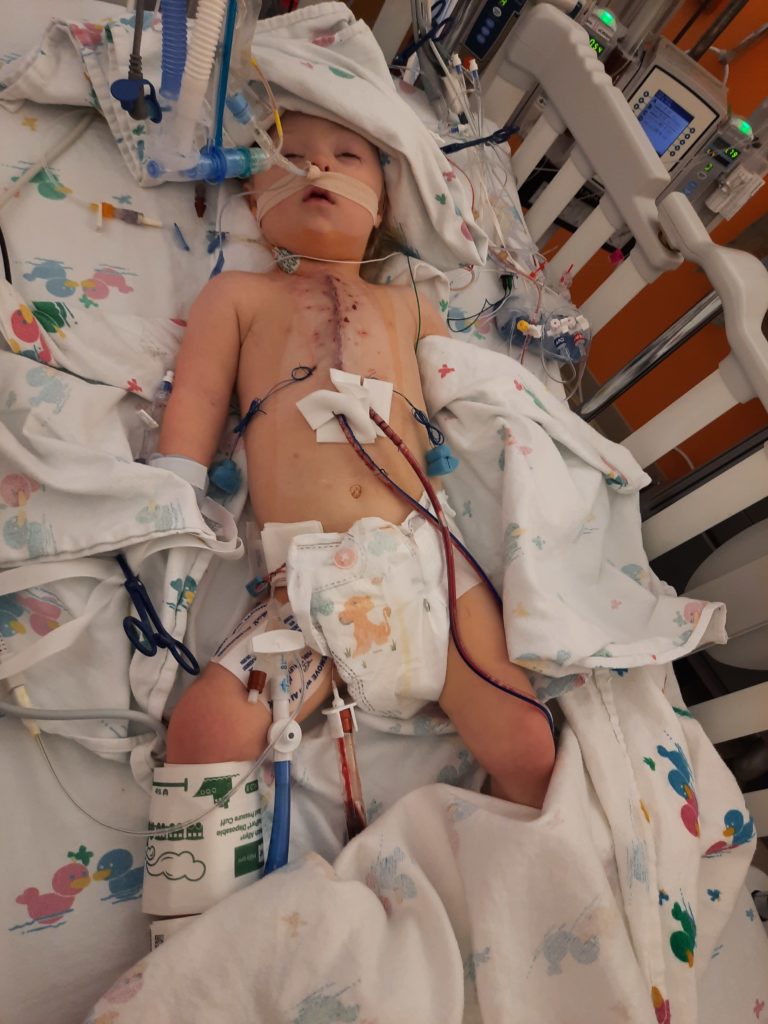 However, their relief was short-lived.
A month later, Richardson's younger daughter gave birth to Noelle. Unaware that anything was abnormal, the family was surprised when Noelle was born with Down syndrome, a hole in the wall of her heart (which was also missing a valve), and necrotizing enterocolitis, a disease of the digestive system that only 50 percent of infants survive.
At only nine days old, Noelle underwent her first surgery to remove two-thirds of her colon. At five months old, she had her first open-heart surgery.
"This was all during Covid," recounts Richardson. "So I couldn't go be with them. That just magnified the stress of the whole situation."
A year later, Noelle returned to the hospital for a second heart operation. Richardson waited at home, anxious to hear the outcome, but the surgery dragged on, taking twice as long as it should have.
While operating, the doctors had discovered that Noelle's heart muscle was growing into her sternum; the heart was tearing, and Noelle was losing massive amounts of blood. After three transfusions, the medical team was finally able to stop the bleeding and complete the surgery successfully.
Richardson says that donating blood every eight weeks (the maximum allowed) is her way of giving back to the healthcare community that saved her grandchildren's lives.
"With all these babies being born at once in really traumatic ways, it just really solidified my desire to be a dedicated blood donor," says Richardson.
Richardson's blood is CMV-negative, meaning that she was never infected with the CMV virus present in 85% of the population. Though relatively harmless to adults, the virus can be deadly to newborns. For this reason, only CMV-negative blood can be used for NICU patients, making Richardson's donations especially impactful.
"Maybe some baby that needed three transfusions got a pint from me," says Richardson. "I don't know, I think that's pretty cool."
Richardson says that the process of donating blood has been a positive experience.
"It doesn't make me sick, it doesn't gross me out, and I don't faint," she says. "I just feel like if I can donate, I should."
Only 3% of age-eligible people donate blood yearly, and although Richardson encourages others to participate, she understands that it's not for everyone.
For those who are interested in getting involved, Richardson offers three pieces of advice: Download the mobile Red Cross app, complete the RapidPass at home, and stay hydrated.
"Get the app, and then just do it," she says. Besides allowing users to schedule appointments and find nearby blood drives, the app also records how much blood users have given.
"I think I'm approaching three gallons. I'm pretty determined, like how many gallons of blood can I get?" laughs Richardson.
After giving blood, donors receive a letter informing them of the city and hospital that their blood went to.
"It's neat to know that somebody in California was helped because I donated blood," says Richardson. "It just makes me feel like I am making a little bit of a difference."
Currently, Richardson and the twins' family reside in Eugene, while Noelle's family lives close to Portland. The boys, now energetic three-year-olds with rapidly developing imaginations, have yet to display any residual effects from their birth. Like other toddlers, they like playing with toy cars and reading books.
Once a week, Richardson makes the trek to visit her granddaughter near Portland. Because Noelle is immunocompromised, she doesn't often venture outside or interact with strangers.
"It does limit who her parents let into their house," remarks Richardson. "But they let me in all the time." In the warmer months, Richardson takes Noelle to the park. Because of her Down syndrome, Noelle's development is delayed
"She doesn't have many words, but I'll blow bubbles for her, and she'll pop them and say, 'pop, pop, pop, pop, pop,'" says Richardson.
For the past year, Noelle has been dealing with a blood issue that doctors have been struggling to resolve, and in a couple years, she'll have to undergo one more cardiac surgery, but for now, the doctors say that her heart is in good condition.
"There's nothing imminent, no surgeries planned, and hopefully there won't be any surprises," says Richardson. "Everybody's good right now."
https://www.dropbox.com/s/9yo6mwhkvyqnjyc/american_red_cross__noelle_psa__30%20%282160p%29.mp4?dl=0