Finding Hope in a Red Cross Shelter after Narrowly Escaping a 4-alarm Fire
Rebecca Marshal/Red Cross Cascades Region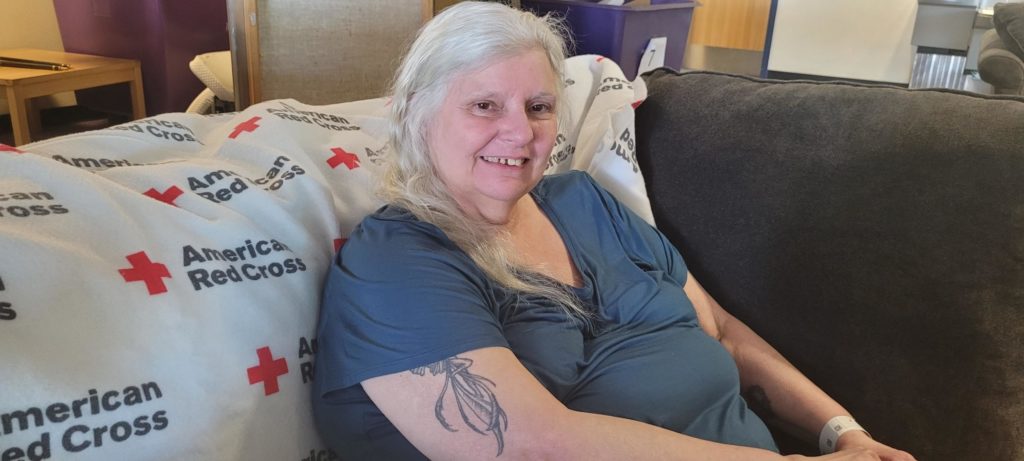 On Tuesday morning, May 16th, Barbett Grace heard commotion in the hallway outside of her apartment. She opened the door and there was so much smoke in the hallway, she couldn't even tell if the lights were on. She quickly closed her door and went out the window of her 3rd floor apartment and onto the fire escape ladder. It says the whole thing didn't seem real. Once Barbett realized how big the fire was, she scaled down the fire escape and made it to the sidewalk across the street. She stood in disbelief.
"I just watched my apartment burn, and it was horrible."
Soon after she got out of the building, she saw a window explode and cut a firefighter's head. He continued to fight the fire.
Later that day, Grace was given a ride to the Red Cross shelter at the University of Portland.  She said she knew she had to get there because there would be resources available, and she was right.  
"Oh my gosh, the Red Cross has been so wonderful. I so admire them. They've fed me, clothed me, kept me hydrated and even arranged with the VA to get me my meds."
Grace, who's in her 70's says she hasn't had to sleep in a group setting since she was in bootcamp with the Coast Guard back in 1974, but she says it's been okay. She attributes that to the kindness of the Red Cross volunteers inside.
"I admire you all so much for what you do, it's unbelievable. Here we are with nothing, and you are giving us basically everything. At the very least, the Red Cross is giving us hope."
If there's one hopeful thing about Grace's story, it's that she was just about to move into a different apartment complex. That apartment is still available, and she'll be able to move in soon, but she won't have anything to move into it.  Her next goal is to find furniture, kitchen supplies and basically everything else it'll take to make a home.  She's already making plans.