First Ever Red Cross Team Attends the Veteran Wheelchair Games in Portland.
By Rebecca Marshall/Cascades Region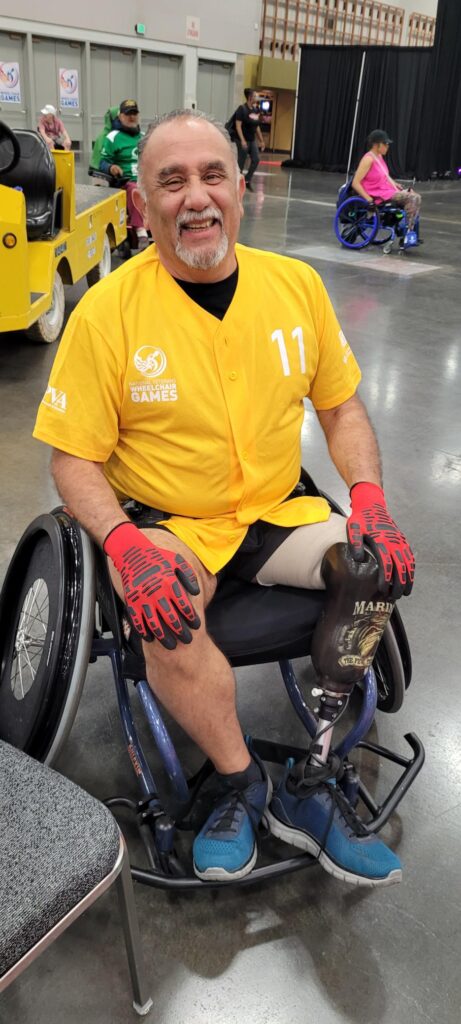 "When you are here, it's your home away from home. You forget about your injuries and your pain," says Marine veteran Luis Bernal who's been coming to the National Veteran Wheelchair Games since 2019.
He's part of the Red Cross sponsored team and is competing in 9 events in Portland, Oregon, including softball, pickleball, air rifle, 9-ball, Javelin, shotput and more.
Five years ago, when he first learned that he would lose his leg he didn't want to deal with anybody. He wouldn't let people in his room. He was shutdown. Then, someone introduced him to the wheelchair games, the world's largest annual wheelchair sports and rehabilitation event solely for military veterans, and it changed his life.
"When you are competing in the games, you are free, you are a competitive person once again," says Vernal.
The connection these players have is amazing. They liken it to a family reunion, and a chance to meet friends who are in the same boat as they are. But getting here is a financial challenge. Many of the players are on a fixed disability income and they struggle to raise money to attend the games each year. That's where the Red Cross stepped in.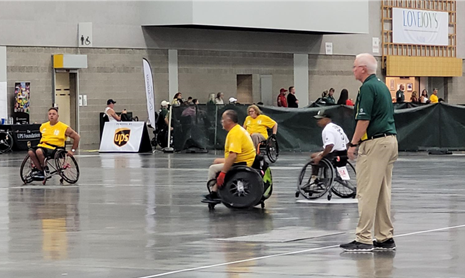 Red Crossers learned about the game while volunteering at the Veterans Administration in Loma Linda. With the help of Southern California Region's Red Cross Service to the Armed Forces and International Service Director Jason Brand, they received the sponsorship they needed to make the coveted trip.
"It was the greatest day of our lives to learn that the Red Cross was going to help fund our trip. I wouldn't be able to be here without them," says Vernal.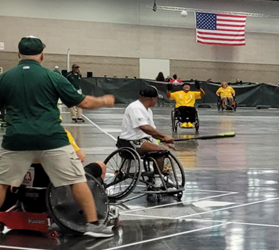 In all, seven veterans traveled to Portland, Oregon from Loma Linda, California to attend these annual games. When it's time for their events, they become serious competitors and getting them in one location during the event isn't easy. Still, each one took the time to talk about their experience and what it meant to them to be there. One of the attendees is a Navy veteran and has been coming to the games for 28 years. He boasts that he's earned 87 medals, not counting this year's competition.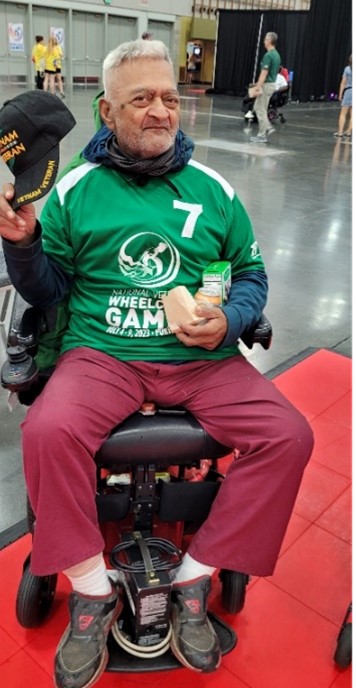 Al Marconi is a Vietnam era veteran and an archer who has also been coming to the games for several years. He, too, struggles to afford the trip to the games each year. He chokes back tears when he says he was so happy to learn that the Red Cross was funding the trip with no strings attached. Marconi sums up the attitude of so many of these participants.
"Handicap is when you allow a disability to get in the way of your life. We don't consider ourselves handicapped; we consider ourselves 'handi-capable'. Coming here and experiencing this is just like magic."
To learn more about the Red Cross services for our military men and women, and their families, click here.
###