Red Cross Volunteers Take Lead on Disaster
Rebecca Marshall/Red Cross Cascades Region
One thing to know about wildfire and response is that it can change at a moment's notice. As this blog is being written, the Red Cross has two shelters opened across the region. One is on standby. One is open with no evacuees, and one is open helping 33 people. The Red Cross is either staffing shelters or has teams ready to go should the need arise.
"This is a common footprint of our response during the summer months. Fires can start up anywhere in Oregon and SW Washington and they can grow exponentially," says Rebecca Marshall, Region Communications Director.
When a county emergency manager asks Red Cross to open a shelter, Red Cross volunteers bring a trailer to the desired location. They set up cots and arrange for feeding. They utilize their health services volunteers to help folks who may need to refill prescriptions or replace lost eyeglasses. They even have disaster mental health and spiritual care volunteers to provide emotional and spiritual support.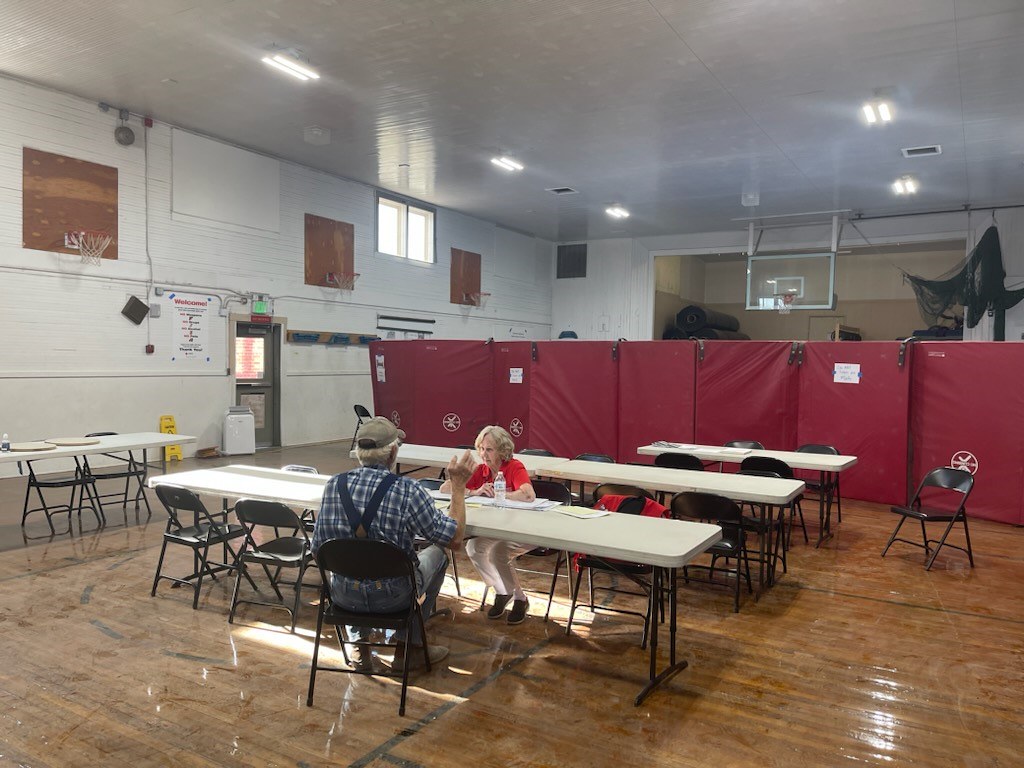 Sometimes several evacuees come to the shelters, sometimes dozens of people come, and sometime no one comes. Either way, Red Cross is doing the footwork to be prepared for their arrival just in case.
During a disaster, Red Cross leaders keep in constant contact with government and community partners to find out if evacuation levels are growing, reducing, or staying the same.
"Will we have people with access and functional needs? Will people be bringing pets or service animals? These kinds of questions are considered as we respond and we work with our partners to make sure those needs are met," says Marshall.
When the region is not responding to disasters, shelter exercises and simulations are held to determine how responders will work together. Just this past year, Red Cross held several shelter simulations with government partners and tribal partners like the one last June on the Grand Ronde Tribe reservation.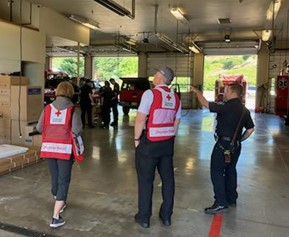 Many of the Red Cross volunteers you see on a disaster have deployed across the country to other disasters. From Hurricanes Katrina, Harvey, and Ian to wildfires in California, or tornadoes in Kentucky, these responders have learned so much about sheltering and helping people in the face of disaster.
"I've deployed more than 20 times in the past 12 years, including to 9-11, several hurricanes, wildfires, and floods too. Now I oversee many of the operations in our region and across the country as well," says Carrie Sammons, one of those seasoned volunteers.
Other Red Cross volunteers you see are newer to the Red Cross but wanted to help their communities and got the training they needed so they could respond during our disaster season, like Nan Noteboom
"The Red Cross has always been an organization I respect and appreciate. For decades as a high school teacher, I taught the value of giving back, and community service is a lifelong value of mine. Staffing the shelter in Goldendale with Kitty, a veteran volunteer, opened my eyes to the need and the opportunity to share my time. Volunteering is not just good for others, it's good for me," says Nan.
The number of disasters due to extreme weather conditions has led to an increased response.
• In 2021 alone, more than 40% of Americans lived in a county struck by a climate disaster.
• Over the past decade, disasters have displaced more than 8.5 million people from their homes.
• As part of this worsening humanitarian crisis, disasters are becoming more extreme. Over the last 30 years, the number of acres burned by wildfires has more than doubled and the intensity of storms has progressively increased.
• These extreme events are also happening more often. The number of billion-dollar disasters has nearly doubled in the last five years compared to the previous five.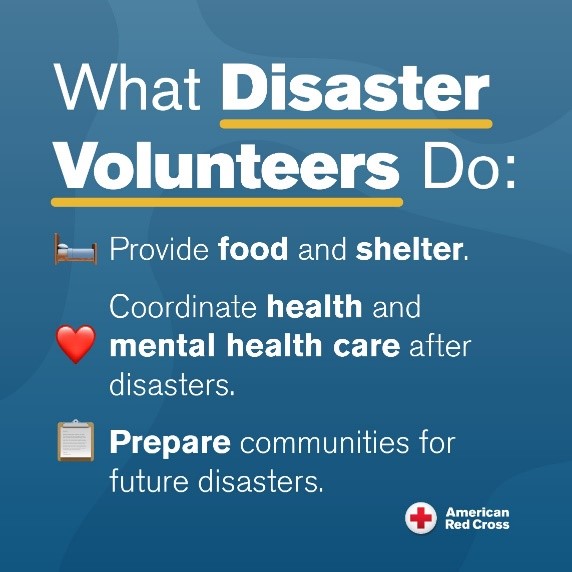 We rely on volunteers to help with these responses. Seeing those Red Cross red vests can be a sign of hope for people who've lost everything, and providing that hope motivates volunteers to get involved.
To learn more about how you can become a volunteer, go to Redcross.org/volunteer.
A big thanks to all the volunteers who serve the Red Cross mission to prevent and alleviate human suffering in the face of disasters.