Volunteer Delivers Lifesaving Blood Products
Olivia Wolf/Red Cross Cascades Region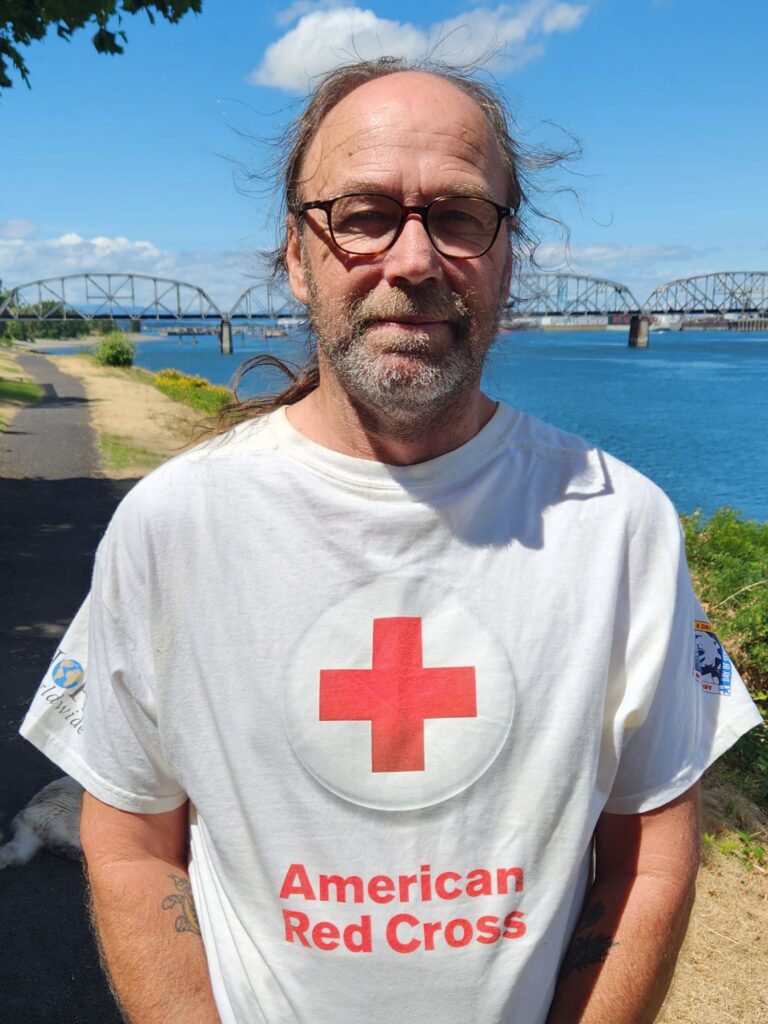 Every Friday, Chris Schwartzkopf delivers essential blood supplies from the Portland Red Cross facility to an Oregon coast hospital. About half of the time, his wife accompanies him as a navigator. Other days, it's a herd of elk that guides him to the seaside. For many of these hours though, it's a solo job.
"I always listen to OPB radio," says Schwartzkopf. "I can go all the way to Astoria, change the frequency and hear the same program from Portland."
Schwarzkopf joined the Red Cross five years ago shortly after retiring from a lifetime of delivery work that began when he was 19. During his career, Schwarzkopf drove semi-trucks down the coast to Brookings overnight, made up to 20 stops per shift, and transported up to a thousand cases of restaurant supplies at a time.
When Schwarzkopf arrived at his first Red Cross meeting, his intention was to board a plane to Florida to assist hurricane victims. However, he soon learned that he would have to complete sheltering training before being eligible to deploy.
In the meantime, Schwarzkopf decided to apply his knowledge of Oregon's roads to volunteer as a blood transportation specialist, one of the most-needed positions at the Red Cross. In contrast to his former job, this one only required a couple stops per shift and about six cases of donor blood in a van.
"It's pretty straightforward. They have the stuff ready when you get there, and you put it in your car, and you take it, and you come back. That's 99% of it," says Schwarzkopf. "I like it because when you do a regular route, you get to know the people at both ends."
Other bonuses of the job include being able to explore the diverse landscape of the Pacific Northwest, watching the baby elk grow throughout the seasons, and meeting people from all walks of life.
"When I first retired, after about three months, I did get another part-time job," says Schwarzkopf. "It's obviously not about the money [volunteering at the Red Cross] because you're not getting paid; it's about the experiences you get. If you're sitting at home watching television, you kind of miss that part."
Usually Schwarzkopf completes his runs without issue. The biggest setback he can recall was a flat tire that he was able to repair in 30 minutes on the side of the road. On occasion, he's been delayed by traffic or forced to drive through light snow, but nothing has required him to stop his deliveries.
After starting as a transport specialist, Schwarzkopf also completed his initial interest in shelter training. Since then, he's been deployed to Oregon and California during the forest fires and to El Paso where he volunteered with unaccompanied minors at a refugee camp. For the upcoming hurricane season, Schwarzkopf expects to be deployed once again.
In terms of his local endeavors, Schwarzkopf still has one goal left: to spot a bear along his delivery route.
"Sometimes we'll see coyotes, we've seen a couple foxes, lots of raccoons, even a bobcat once in central Oregon, but we haven't seen any bears."
As for how long Schwarzkopf plans to continue these treks?
"I don't see any end right now," says Schwarzkopf. "If you don't have a job you can sit around and the TV will suck you in, or you can join something like this. If nothing else, I can look forward to taking a nice car ride to the coast every Friday."