From Peru to Ridgefield. Celebrating an Unforgettable Red Cross Experience this Hispanic Heritage Month.
Marisa Bevington/Cascades Region Volunteer
"I had never found myself in a situation where people came to donate blood with a lot of willingness and joy to support people they don't know."
Those are the words of Milagros Isabel Tarco Salcedo. She was named the Red Cross Volunteer of the Week in September for her impressive contribution to the Blood Donor Center in SW Washington.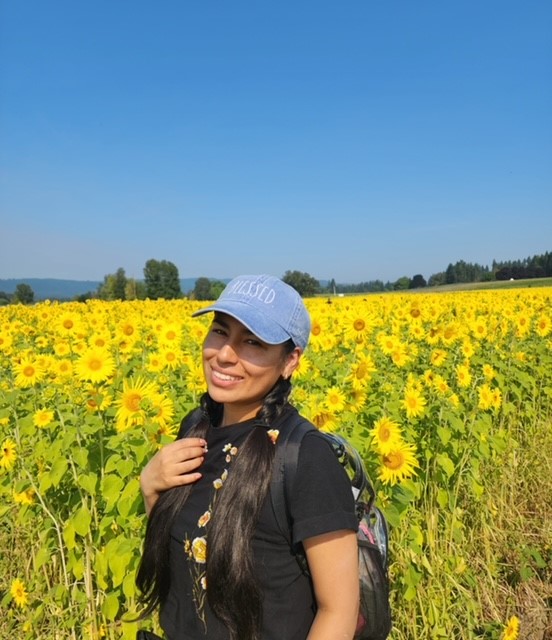 So, how did a young Peruvian woman from Urubamba in the Sacred Valley of the Incas, 11,151 feet above sea level, end up volunteering with the Red Cross Cascades Region?
Her country is an amazing extension of land that starts or ends at the Pacific Ocean, crosses the Andes Mountains, through valleys and lakes (Lake Titicaca for example) and then to the Amazonian jungle.  Many civilizations populated what is now Perú, but let's just mention the ones that were in Milagros' home territory. The Chanapata civilization used this area for agriculture due to its rich soil around 800 BCE.  From 500 to 900 CE the Qotacalla civilization lived in the Sacred Valley which was then followed by the Killke civilization until 1420. That is when the Inca Empire conquered that area.  The empire did not last long because the Spanish arrived with their hunger for gold and silver around 1526.
Milagros grew up speaking Spanish although with her mother also spoke Quechua (one of the most important native languages of South America).  When she was five years old her father died, and her mother had to support her four children. She did so by selling merchandise from a street cart or booth in Urubamba.  Everyone helped.
As Milagros grew up, she knew she wanted to study at the university but since they couldn't afford it, she studied Computer Science at an institute in Urubamba. After graduating, she got a job there as receptionist. That's where she learned so much about working with the public (parents and students). She also worked at the World Cultural Heritage Site of Machu Pichu as well as at an institute in Cusco. Everything was going well until the Covid pandemic closed schools and therefore, Milagros' job.
Milagros started thinking about leaving Perú since she couldn't do much besides staying home. It was then that she researched different international programs and found the au pair program online. After six months of much paperwork and documentation, and with the great help of the au pair person in Perú, she was interviewed at the US Embassy in Lima and received her work visa.
It took many video calls using google translator etc., but she got her first assignment with a family in Indianapolis, Indiana. She took care of two children for one year and enjoyed it. She also kept studying English.
Her next assignment was in Ridgefield, Washington, where she currently lives with another family taking care of their baby. It was while reading a posting from another au pair that she realized that she could be a Red Cross volunteer. That au pair described how she had volunteered with the Red Cross in the states and when she returned to her country, she was hired by the Red Cross there! Salcedo's own pastor in Washington suggested that she volunteer with the Red Cross too since she had some free time. She also read on Facebook that the Red Cross was looking for volunteers, so she signed up.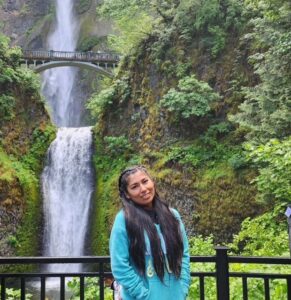 Milagros is so happy to be a Red Cross volunteer for the Cascades Region.
"I received a lot of help and support from other volunteers and employees," she says.
Not only does she love helping others, but she feels also that her experience will open doors for her when she returns to Perú and looks for a good job.
Milagros is a charming young woman who has a clear purpose in her life, and she is succeeding in her pursuit of it partly because she was able to volunteer with the Red Cross. Thank you Milagros!