Answering the Call:  Coast Guard Veteran Bruce Hibbs' Service after Service
Colleen Hathaway, Red Cross Cascades Region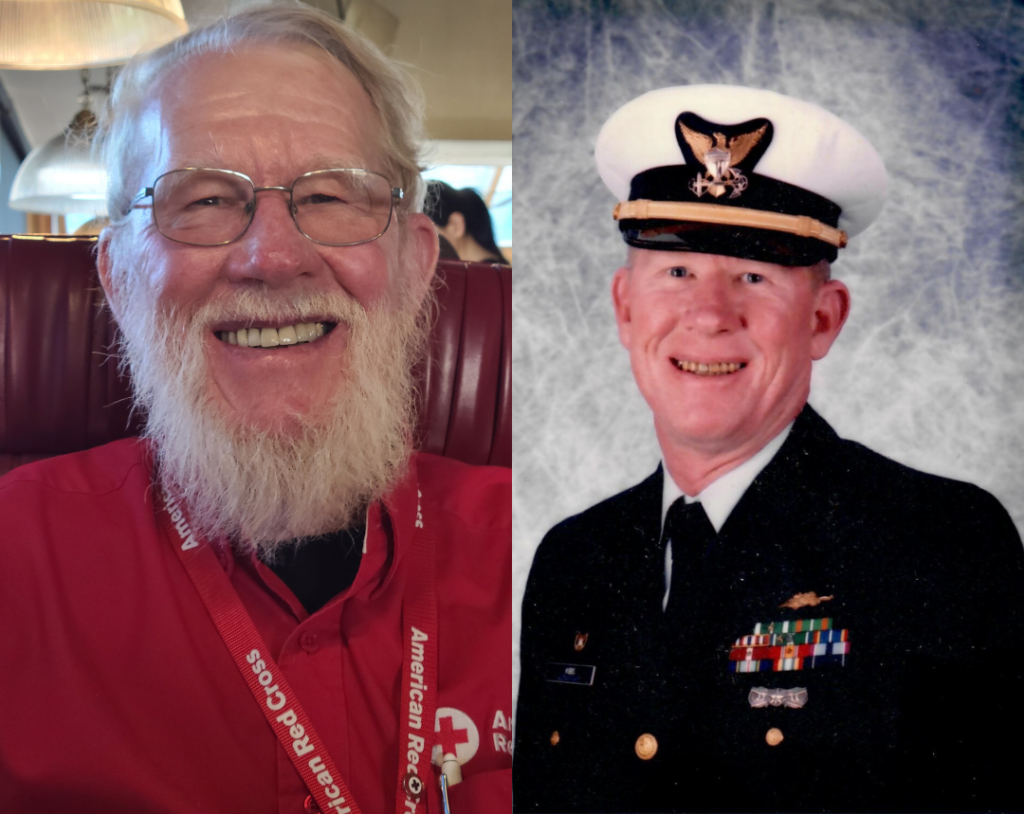 Coast Guard Service
For 31 years, Bruce Hibbs served in the United States Coast Guard, contributing his knowledge and skills to an array of different assignments for the purpose of protecting our country's people and promoting our country's security.
In the late 1960's, he was assigned to the U.S. Coast Guard Cutter Klamath (USCGC Klamath (WHEC-66)) doing patrols to Ocean Station November, in the Pacific Ocean halfway between California and Hawaii. Cutters are Coast Guard vessels that are at least 65 feet long that can accommodate crews living on board for days or even months. The Cutter Klamath was 254 feet long and served as a recover platform in case an airliner flying to or from Hawaii had to land.
Also during this time, Bruce received orders to report to Coast Guard Buoy Depot Vancouver in Vancouver, Washington. The Buoy Depot maintained all the fixed Aids to Navigation (ATON) from John Day Dam to Longview, WA. It also maintained the buoys and fixed aids on the Willamette River from Albany, Oregon to Portland, Oregon. ATON includes lighted and unlighted buoys and fixed structures such as day beacons and lights, ranges and lighthouses.
After serving at the Buoy Depot, Bruce was reassigned as the Officer in Charge at Light Station Turn Point on Stuart Island, located in the San Juan Islands in Washington.
A three-man team was assigned at the Light Station: a boatswain mate, an engineer and a seaman. They stood eight-hour watches around the clock, manning the light and fog signals. The team was responsible for maintaining equipment, buildings, and grounds.
Bruce fondly recalls his time at Light Station dozens of miles from the mainland. In a truly "unplugged" scenario, for three years, he and his family, along with two other families who lived at Light Station, had no tv, no cell phones (they hadn't yet been invented) and certainly no Netflix. Mail was delivered by boat twice a week. Water and fuel were delivered by the Coast Guard Buoy Tender Fir. "Life was great," Bruce said.
Following Light Station, Bruce served on the Coast Guard Iris, a 180-foot buoy tender in Astoria Oregon. Buoy tenders are a type of cutter used to service ATON. The tender was responsible for all the buoys along the Washington Coast.
Bruce served in many other important roles leading up to his retirement, including being part of a patrol boat that seized drugs off the coast of Oregon, assisting salmon fishermen in the Gulf of Alaska and Bering Sea, and serving on a boat and safety team on the Great Lakes. In addition to being an Officer in Charge, he's also been a crew member, Commanding Officer, Assignment Officer and Executive Officer.
Red Cross Service
The Coast Guard assigned Bruce his stations. He dutifully fulfilled his orders. But, he says, "After retirement, they stop calling you." He still had service to give and more rescuing to do. The Red Cross, much like the lighthouse he was stationed at for years, was a beacon for Bruce. It called, and he answered.
Five years ago, Bruce found out about the Red Cross during a county fair when he stopped by their booth. He took some Red Cross courses and became a "Blood Donor Ambassador," a type of volunteer who helps ensure a positive experience for blood donors. He enjoyed greeting people, but the impact of the pandemic made him pivot to becoming a Biomedical Transportation Specialist instead, delivering lifesaving blood to hospitals.
The work suits him. He's a self-described quiet person who likes to stay in the background. He finds hospital staff to be generally friendly and willing to help out. "It amazes me how helpful they are. Everyone pitches in and does the best they can."
Bruce's late wife needed blood transfusions when she had cancer. He spent a lot of time in hospitals and is familiar with the environment. He is friendly with patients and staff when he delivers blood, but above all he recognizes that sometimes the best thing to do is just listen. One never knows what patients and their families are going through.
In the armed forces, Bruce rescued people. Volunteering for the Red Cross is another way he can give back, helping to rescue people by transporting life-saving blood. "I really love volunteering for the Red Cross delivering blood. It's fantastic to help…You walk by the patients and they seem to perk up. Each one has their own story."
Coast Guard History
The Coast Guard has a unique history and set of duties which its approximately 50,000 personnel carry out. Founded in 1790 as the Revenue Marine, it enforced federal tariffs, customs and navigation laws and prevented smuggling. More than two hundred years later, it continues to enforce laws and serve as a maritime regulatory agency, but it is also an environmental steward of ports and waterways, part of the U.S. National Intelligence Community, and first responder.
The Coast Guard was officially created in 1915 after the Revenue Marine, having first morphed into the Revenue Cutter Service, merged with the U.S. Lifesaving Service who had dozens of stations along the nation's coastlines, "manned by dedicated crews willing to risk their lives to save those in peril on the sea."
________________________________________________________________________________
2. "The Cutters, Boats and Aircrafts of the U.S. Coast Guard," USCG
3. "Federal Aids to Navigation," USCG