Campaign Red – Glass Half Full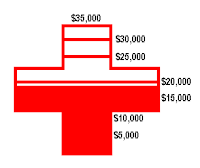 …Er, cross half full I guess. Anyway, we're past the halfway mark for our fundraising goal!
We're at $18,664.56
Candy gram sales are also in full swing. ($1.50 to send a little bundle of candy and a nice note to a coworker.) These are my favorite part of Campaign Red. Now I've got to decide who to send candy grams to! Hm…why not reward our blog readers?
Anyone who works here who comments on this post will get a candy gram from me.