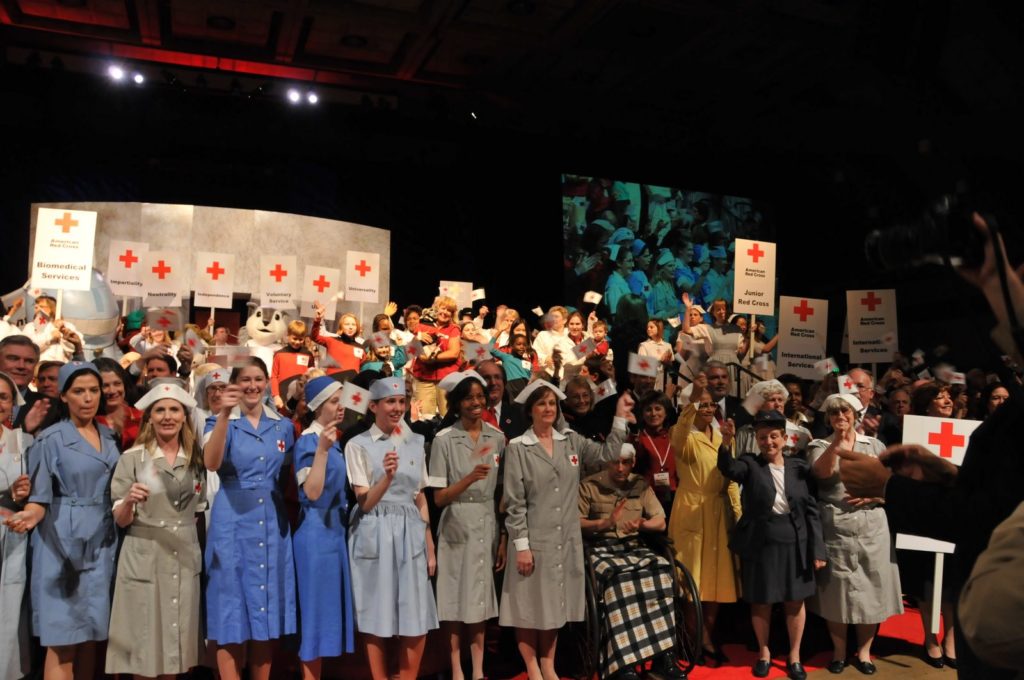 So even though we're really on Day 3, I'm blogging about yesterday. Which was pretty amazing. Since there's so much to write, I'm just going to mention some highlights that I jotted down in my notes…
1.
General Russel Honore
was incredible. Very inspiring. He left us with three things to remember. Do routine things well. Never be afraid to take on the impossible. And, don't be afraid to act, even in spite of criticism.
2. Board Chair
Bonnie McElveen-Hunter
was equally impressive. She spoke about trust being the "thread of steel" that unites the Red Cross and used some real-life examples of Red Cross staff, volunteers and heroes. How do I know they're real life? Well, that's the best part. In her speech, Bonnie used the example of
Susan Richardson
, our very own Oregon hero who used CPR to save the life of her son and was honored this month at our Breakfast of Champions. How awesome is that?!?!?!
3. The Parade of Volunteers was quite a sight. NHQ is taking video of the event and that's something that we'd like to take back and show OTC staff. Antoinette and I are working on that. Basically, everyone was in costume, dressed in authentic outfits from the days of Clara Barton (complete with hoop skirt) to Star Trek uniforms representing the "next generation" of the Red Cross. There were nurses and spacesuits and even a dog. The final hurrah was the entrance of Ernie the ERV. I'm hopefully going to be able to post a photo of Antoinette with Ernie soon. Adorable!
Hopefully I'll find time later this afternoon to write about today's activities. So far, so good. And I'm hoping to be able to take a look at YouTube and see if I can find some of the video that they've shown here. The "Between Hand and Heart" video from the advertising agency that did the Change a Life campaign and the Walter Reed video have been particularly impressive. Who ever is in charge of those has really done an incredible job.
P.S. Antoinette and I made it a point to find a young, cool, hip neighborhood for dinner last night and ended up in Fell's Point at a place called
Kali's Mezze
. If you're ever in Baltimore, I'd highly suggest checking it out. Yummy!
P.P.S. Photos are courtesy of ARC volunteer Bob Lott. THANKS BOB!!