Cold Weather = Not As Fun Anymore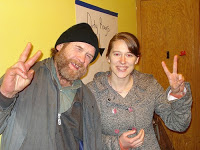 Growing up, Portland got snow several times each year…just enough for school to be cancelled for a few days. Those were the days when snow was a blast — inspiring sledding, hot cocoa and warm fires.
Nowadays, I feel a twinge of dread when I hear a forecast like what's ahead this weekend. It's not because I'm scared of driving in inclement weather (I lived in Michigan, for goodness sake), it's because I know we might be opening our Emergency Warming Centers for the homeless.
It's not that this isn't a fabulous project (it is!) or that our guests aren't well-deserving of a warm place to spend the night (they are!), it's that we often can't confirm the opening until literally the day of…which means a mad dash to get word to partners, conduct media interviews and post to our Web site. And we're the communicators — just think about the last-minute logistics required to line up volunteers and move mats, blankets or food. Especially on a weekend. In April.
I can't say yet whether we'll open, but if we do, you'll hear about it here first.