A Stylish Fire Extinguisher?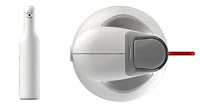 Generally speaking, "stylish" and "fire extinguisher" don't really go together. But if I'm going to be adding a new one to my humble abode — especially if it's going to be visible and accessible to visitors — I demand something cute. And color-coordinated.
So, in the next few weeks, I'll be adding myself to the I'm Red Cross Ready Flickr group once I install this beauty from Home Hero. The only downside is that it's NOT an ABC extinguisher, which means that it WON'T work on grease fires. For that, I might go ahead and get this Kidde version, which also comes in a nice, glossy white…a step up from my existing red versions.
And, yes, I'll probably cave and buy the matching smoke alarm too!