Help! The Red Cross is Making Me Watch NASCAR!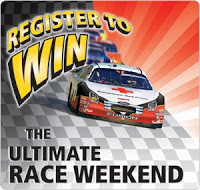 I feel about NASCAR pretty much the same way that Robin feels about country music. Actually, I feel that way about country music too, but that's another story…we're talking NASCAR.
If you turned your TV on right now, you'd see Talladega just getting started on FOX. And if you looked for the No. 16 Ford Fusion, you'd see the Red Cross logo (which is hopefully compliant with our new brand standards) in all its glory.
Why? Because driver Greg Biffle is a Red Cross blood donor and Celebrity Cabinet member, and all this hoopla is kicking off a new Web site/competition where people can win rewards for donating blood. It's free to enter and the grand prize is a VIP, all-expenses paid trip for two to the Phoenix race.
So I'll admit it. This partnership makes me love NASCAR just a little bit more. Maybe even enough to turn on the TV and look for the car. I can't promise I'll watch more than a couple minutes, but that's already more than I've ever watched in my entire life. Geez, the things I do for the Red Cross…