You Can Win!! Even if Biffle Didn't…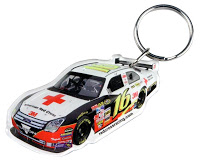 Believe it or not, Talladega was on my TV for at least an hour yesterday. I didn't watch the whole thing, but I did take the time to look up the results.
Sadly, Greg Biffle did not win, though he did come in 18th. Not a bad showing overall, especially when you consider that he gets close to $100,000.
But regardless of how Greg did, there's still ample time for YOU to win! Not Talladega, silly. But a VIP, all-expenses paid trip for two to the Phoenix race. You can also win other things — t-shirts, caps and keychains, for example. And it's all for a really great cause.