Weekly Gift Saves Man's Life, Helps Others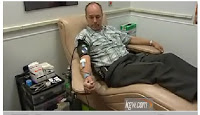 For some people, giving blood even yearly seems like a chore. But for David Martindale, giving blood weekly is actually a relief.
That's because David has hereditary hemochromatosis (better known as hh), a genetic disease that causes the body to absorb and store too much iron. The solution? Donate blood to dilute his system.
There was a time when David had blood drawn weekly, paid for the privilege and then saw more than 80 gallons destroyed. But thanks to a new program from the American Red Cross — right here in Portland! — David can come straight to the donor center and ensure that his gift not only saves his own life, but also the lives of many other Oregonians.
You can see the story that KGW's Steph Stricklen did on the topic right here.
Isn't it cool when your very own local Red Cross leads the way with such a fabulous program!?