Save Lives, Vote for Our Blog!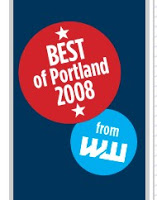 Last week, we got a taste of victory when this blog won a big award. But, hey, we're admittedly greedy and can't just stop there.
That's why we want YOU to help us out and cast your vote for The Red Cross is Here in Willamette Week's annual Best of Portland survey.
The category is "Best local blog that's worth reading" and we think we're a shoo-in. Why? Because at our blog, we don't just provide commentary, we also aim to inform and educate our readers. That's because we think knowing how to be safe and prepared is more useful than, say, restaurant gossip or political musings. Of course, that doesn't stop us from loving Food Dude or Jack. Really, we read them all the time…
So, go here now and vote. You don't have to fill in all the categories to vote for a blog. If you'd like, you can skip ahead to page 3, look about five up from the bottom and enter http://www.redcrosspdx.blogspot.com/. You can also enter the Oregon Trail Chapter as the best local non-profit…that's five from the top.
Just remember — reading our blog could save your life. Who else can say that?
P.S. You must vote before Saturday, May 31. For added incentive, you could win a Specialized Globe Sport commuter bike from River City Bicycles, a $200 shopping spree at Powell's Books, or a day in a convertible Mini Cooper courtesy of Zipcar.