How Many Red Crossers Does It Take to Draft a Strategic Plan?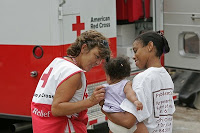 Funny how your most productive working days don't always happen while sitting at a desk…
Yesterday, we got out of the office to do a little strategic planning. There were about 25 people present, all focused on determining the actions our chapter should take to move us forward over the next few years.
The last time we did this (about a week after I arrived), I threw out a random suggestion about partnering with organizations like DoveLewis and the Humane Society on Pet First Aid. And you know what? We made it happen.
So I'm excited to see where our planning session leads, now that I know we really do follow-through on brainstorms.
And though I can't really lay out all the ideas for you, I will share this very interesting article about emergency preparedness that appeared in the Washington Post and say that it reflects many of the same concepts we were batting around. Plus, if you're inspired by the article, check out the online discussion — it's well worth reading.