Cross Spotting: Bravo's Top Chef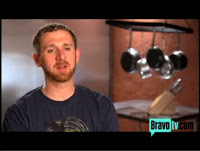 It's weird — I really don't watch that much TV, but it seems like every time I turned on the tube, there's another Red Cross connection. Before, it was SNL and the Style Network. This time it's Bravo's Top Chef.
Playing "spot the cross" is a little harder this time around, but the clue is in the photo above. Can you see it?
Any true Red Cross buff would know that booted contestant Andrew D'Ambrosi is wearing a t-shirt from the American Red Cross Loves Threadless competition. Not only that, but it's the very same one that I brought home for Robin from the national convention in Baltimore!
Pretty soon you'll be able to do some Red Cross spotting along with us — we're setting up a new Flickr group where you can contribute the weird and wonderful places that you've spotted a cross connection.
In any case, thanks Andrew for supporting the Red Cross via Threadless. Come visit Portland and cook for us sometime!