Red Cross at Portland City Council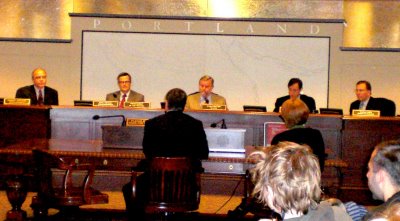 "I love the Red Cross."
— Randy Leonard
Portland City Commissioner
Former Firefighter
I just got back from City Council (that's my back in the photo), where I highlighted our incredible work last winter with Emergency Warming Centers.
I went to thank the Council for partnering with us on this new venture, and for their innovation and comittment to homelessness services.
You may recall that our warming centers were open on 19 different nights. On virtually all of those 19 nights, we operated 3 different warming centers across town. And 2,651 overnight stays were provided to some of the most vulnerable members of our community during potentially life-threatening weather conditions.
Just another way we're saving lives – down the street, across the country and around the world.