Read Our Profiles, Learn New Stuff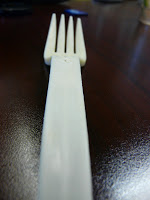 BTW, have you noticed that Robin and I have updated our profiles for your reading pleasure? Okay, there's not much there…yet. We'll try to get all the other bloggers to do the same.
And, in case any of you wondered about the potato starch fork that I referred to, I thought you would want to know that I went to Por Que No for lunch (sorry Robin and Erica!) and brought one back just for you.
See the pic above or, if you happen to have a magnetic tongue, buy one for yourself here.
Oh, and no, you can't really eat the fork. I tried once, but it's quite hard and plastic-y. Not like a potato at all.