Check Out Our New Shirts!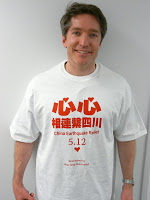 We got a very cool delivery today…several t-shirts that were used by the Portland Chinese Times to raise money to support China earthquake relief efforts. Here you see the t-shirt modeled by our devastatingly handsome HR volunteer, Jeff. (Hi Jeff!)
At our annual meeting, we honored the entire Portland Chinese community for all their fundraising efforts. All told, they raised close to $60,000 and were, of coure, a shoo-in for our Philanthropists of the Year award. You can see the photo right here.
Thanks to James Chen for dropping off the shirts — as you can see, we're wearing them with pride!