Weather Service Warns of Hot Temps This Weekend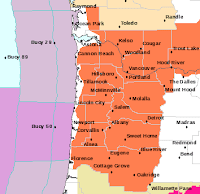 It's officially going to be HOT this weekend — check out the National Weather Service heat advisory announcement. With that said, it seems like perfect time to remind you of how to stay safe in hot weather.
To test your knowlege, here's a hot weather quiz:
Q: What's the heat index and how much does it increase with exposure to full sunlight?
For the answer and many more heat-related tips, click here.