Dam!!! Now There Are 2 States With 10,000 Lakes…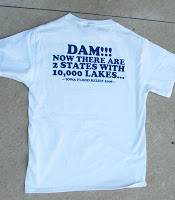 Clever, right? And sweet, when you know that proceeds from the sale of this Iowa Flood Relief t-shirt are being donated to the American Red Cross disaster relief fund ($9 of the $15 cost, if you're wondering).
I spotted this link on the morning blog report that Claire at NHQ generously puts together for those of us "out in the field" and thought that it was worth sharing.
I think it's awesome when creative types use their skills for good. Whether it's designing a flash animation video or a t-shirt, the truth is that the Red Cross can really benefit from your creative thinking and talent.
Here at the Oregon Trail Chapter, we're always looking for creatives to help us with everything from web design to events, photography, writing and much more. If you're ever interested in offering your talents to us as a volunteer, shoot me an e-mail!