Bella's Ball: Books, Blood and Vampires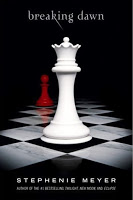 We're I'm not a Harry Potter fan, but we I know people (and they're our my age…and older!) who are.
For those of you who like waiting in line for books at midnight and dressing up in costume, we I present the Powell's Books promotion for Stephenie Meyer's final installment of the Twilight Saga series.
Breaking Dawn wraps up the teen vampire series and promises that "questions will be answered and the fate of Bella and Edward will be revealed." And the Powell's event sounds like honest-to-god book nerd fun:
On Friday, August 1, we are thrilled to host Bella's Ball, a midnight release
party complete with costume contests, spooky DJs, and even a blood mobile!
Easier than the vampire's way, a Red Cross bloodmobile will be operating from
3:30-6:30 p.m. — all donors will be rewarded with priority line-placement when
the book goes on sale at midnight. Hold your squeals of joy, all of you in the
Edward or Jacob camps.
Naturally, we're I'm pointing this out because of the Red Cross bloodmobile connection. Books, blood, vampires…what a creative partnership!
P.S. I KNOW I'm not the only non-Harry Potter person out there…where are my peeps at?