Burundi Refugee Story Goes National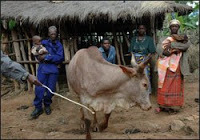 There's nothing more fun (read: lazier) than repurposing stories for multiple publications. Take, for example, the sweet story of Beaverton's Jacob Kabura, a Burundi refugee.
Not only did I send out a press release, but we also put it in the June issue of our One Minute Update e-newsletter (sign up for it on the right) and today it made the news feed on http://www.redcross.org/.
As you know, our chapter has been highlighted on the national website before, but it's still fun to see our stories make it on there. Sure, it's no Newsweek or NPR, but I'll take what I can get.
Very special thanks to volunteer writer Bela Friedman, who made this story come to life!