Cute First Aid Products and Lise's AWESOME News!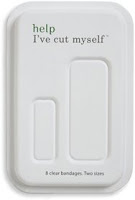 Since you already know of my penchant for well-designed preparedness products, I thought I'd share a well-designed first aid product for a change.
I love the clean design of Help Remedies' bandage and pain reliever containers. There's no logo to dispute over — just modern simplicity for a pretty basic product. With 100% recycled paper pulp packaging and a commitment to donate 5% of these profits "to charities that help people without healthcare get healthcare," I happen to like their philosophy as well.
And in less Red Cross relevant news, I wanted to share something very personally exciting…
I am officially the new Portland blogger for one of Time Magazine's Top 50 Websites of 2008 — Apartment Therapy!

I assure you, dear readers, that this will in no way detract from my love of the Red Cross or posting right here on Cross Blog…it's just a side project for nights and weekends, kind of like my writing for Portland Picks.
Just think of it this way — you not only get great preparedness information and safety tips, you get them from a nationally-recognized blogger. Woot!