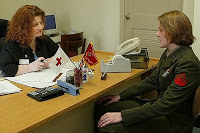 When most people think of the Red Cross, they think of blood, disasters and first aid/CPR. What they don't often think of — especially here in Oregon — are the services we provide to the military.
Part of this is because Oregon doesn't have as big of a military presence as some other states. The other part is because we just don't talk widely about the emergency communications we do on behalf of this population.
If you want to learn more about Service to the Armed Forces (SAF), go here. But if you want to know about SAF from the inside, have we got a blog for you.
Britt works as an Assistant Station Manager for the Red Cross, and is currently located in Tikrit. She's gone to the Middle East before and now she's there again — this time blogging her experience for the rest of us.
Britt is funny and engaging, and for those of us who know little about the military, provides a fascinating inside look. I'll be keeping up with Britt's blog — I hope you will, too!