Best of Portland: It's Not Us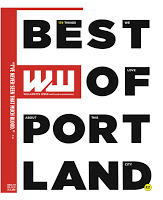 Okay, so we didn't win the local blog category in Willamette Week's Best of Portland. Nor did we get a shout-out in the WW Staff Picks. But even though I'm still in a bit of a funk, I did want to share some nice comments from the fine folks at WW about Cross Blog.
BoP editor Ben Waterhouse actually said that we were "making a fine go of it" in the local blog category, when asked about competing against the big boys.
Reporter Corey Pein said, "Your blog is much better than anything the city puts out, with the possible exception of the Water Blog. I will bookmark it." [Oh, Water Blog. You are our biggest competition. We must organize some sort of face-off between Sarah and Jennie and Robin and myself. Robin and I will totally win.]
And in the biggest compliment of them all, Web Editor Ian Gillingham added us to the WW blogroll and thanked us for our work.
This isn't the last you'll hear of the Oregon Trail Chapter and Willamette Week. Talks are underway now for a singles event with their promotions team, so stay tuned!