Gearhart Memorial Service Tonight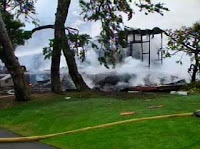 Aside from providing emotional support following a disaster, the Red Cross may well be called upon for other things. Included on the list? Arranging memorial services.
Tonight, the Oregon Trail Chapter will do this very thing, having arranged a time for remembrance for those lost in the recent Gearhart plane crash. Here are the details, for those of you who would like to attend:
Community Memorial Service
Gearhart Community Park
corner of Pacific Way and Marion
7 p.m.
Jerry Gaidos, chaplain with the Clatsop County Sheriff's Department, and our Red Cross mental health volunteers will be on hand.