ICRC Sends Assistance To Georgia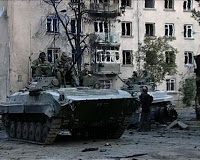 I just ran into a man and woman who stopped by the chapter to ask how they might volunteer in Georgia — the country, not the state.
While it's rare for us to deploy international volunteers, we can always help with more information. If you're following the Caucasus conflict, you can check out what the International Committee of the Red Cross (ICRC) — who still haven't been able to gain access to South Ossetia –are doing here and here.
Photo courtesy of AFPTV/RTR