Blog-Off 2008: This Is Your Brain On Water.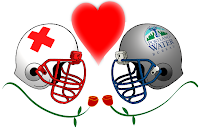 We began this BLOG OFF, in part, because we actually admire the Water Blog and the creative ways they're teaching Portlanders about water issues. So I was quite happy to get the following challenge from our moderators today: Write a post for your opponent's blog. The following will be written as if I was a Water Blogger…
Are you having trouble reading this blog post? Go get a drink of water!
According to
Snyder Health
a mere 2% drop in body water can trigger fuzzy short-term memory, trouble with basic math, and difficulty focusing on the computer screen or on a printed page.
Did you get a glass of nice clean tap water? Good. Welcome back. Now you're ready for some more shocking water facts:
– One glass of water deters hunger pangs for 98% of the dieters observed in a
University of Washington
study.
– The biggest trigger of daytime fatigue is lack of water.
– According to the Mayo Clinic, if you're an average adult, every day you lose more than 10 cups (close to 2.5 liters) of water simply by sweating, breathing and eliminating waste.
So how do you know when you
need
water? When you get thirsty? *BZZT*! Wrong answer. According to
AllAboutWater.org,
by the time a person feels thirsty, his or her body has lost over 1 percent of its total water amount.
The point is we take water for granted.
We're lucky to have an abundance of good, clean Bull Run tap water here in Portland. The only time Portlanders have to worry about safe drinking water is when they go out camping (and even then,
there are easy tools to use
).
Pretty clever, eh? Clearly those marketers' brains are getting plenty of water!
See what the Water Blog posted here,
and vote for your favorite in the comments below.
And please remember to be good sports – if you don't have anything nice to say, just vote for the other blog.