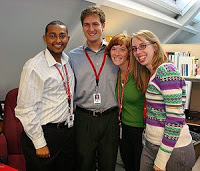 In the coming weeks, the Oregon Trail Chapter will experience an influx of youth and creativity. That's because our new AmeriCorps members will arrive, kicking off nine months of service to our community and, more specifically, our chapter.
We'll be writing more about the AmeriCorps program in the near future (Robin's a graduate, so I'm sure she'll have lots to say), but I wanted to take a moment to remember last year's AmeriCorps members…a bunch that many say have been our very best yet.
While I loved all four — Rose, Aman, Hillary and Mike — I had a special connection with Mike, who's an outstanding writer. In fact, I'm hoping to engage him in some writing projects over the next year, since we're lucky enough to have him staying in Portland.
And don't just take my word for it… Mike's story about his experience as an AmeriCorps member at OTC just made it up on the national Red Cross website. Check it out here.