Meet One Compassionate Kid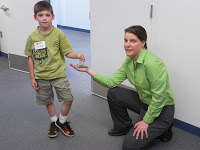 Meet Blake.
This adorable seven-year-old was watching OPB last night (smart kid, no?) and saw the devastation that Hurricane Ike was causing in Haiti. He told his parents to come over right away and see the damage for themselves.
Moved by the images, Blake decided to make a donation to the American Red Cross and stopped by our chapter to drop it off this afternoon. We'll make sure it gets to those affected by the hurricane, just as he directed.
Don't let a seven-year-old be a bigger humanitarian than you are; consider supporting the Disaster Relief Fund. With more hurricanes ahead, there will be lots of people that your gift can help.