Football: It Could Maybe Be Cool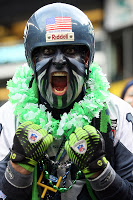 Despite the fact that I went to a Big 10 school, I'm not a huge football fan.
Maybe it's 'cuz I grew up in Portland, where all we ever had to root for was the Blazers. Or maybe it's just because football is crazy boring (sorry!). All that commotion over being able to move the ball a few feet? What's that about? At least with b-ball they're running up and down the whole court…but I digress.
My point was not to debate the merits of basketball vs. football, but to tell you about the very cool thing that the National Football League is doing for the Red Cross this weekend.
During all this weekend's games, the NFL will be encouraging donations to the Disaster Relief Fund. You'll see it on-air during broadcasts and — if you're at a game — right in the stadium. There will also be a web banner on NFL.com.
The message will ask footballs fans to support the Text 2HELP™ Initiative, a cooperative partnership between the Red Cross and the Wireless Foundation. Text 2HELP allows subscribers of participating wireless carriers to donate $5 by texting "GIVE" to 24357 (2HELP).
This weekend, tune in and text away!
P.S. Have you noticed that I'm not a fan of football, NASCAR or country music? What kind of American am I? It's a good thing I make up for all that by working for the Red Cross…