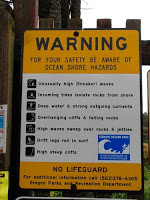 Watch out, Manzanita and Pacific City!
In just over an hour, a tsunami will hit Oregon's coast, causing destruction throughout Tillamook County. And no, I'm not psychic…this is a scheduled drill.
Today's event will test warning systems and command teams. Sirens will sound, "reverse 9-1-1" will be used and amateur radio operators will be asked to pitch in.
According to an article in the Tillamook Headlight Herald, volunteers from agencies throughout the county will be on hand to guide participants to various evacuation areas outside of the tsunami inundation zones. Participants will then be asked to fill out a survey, which will ask about tsunami preparedness. Although there is no penalty for those who choose not to participate in the drill, volunteers will also be on the streets and the beach, questioning people who do not evacuate.
The drill is meant to get residents throughout the coastal towns in Tillamook County to think about their preparedness for a tsunami. Is there a 72-hour kit in the car, at the office and at home? Do children know which evacuation site to go to in the event they're split from their parents?
Another goal is to get people thinking about preparing for the upcoming storm season. Sheriff Todd Anderson also hopes the drill will result in people thinking about their vulnerable neighbors who may be disabled or elderly.
If you live along the coast, you should pick up the new Get Ready! guide and take a moment to review these tsunami tips. If you're not "Red Cross Ready" yet, you can also learn how to get a kit, make a plan and be informed right here.
Photo courtesy of alykat