A Yummy Bit Of Portland History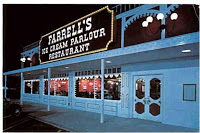 If you grew up in Portland as I did, you surely remember Farrell's ice cream parlor. I celebrated many birthdays at the Weidler location and loved the old-fashioned candy store, where you could get things like Lik-M-Aid and candy buttons.
When Farrell's closed, it was a sad day for Portland. And I have to say that I'm a little jealous to read that the Santa Clarita suburb of Los Angeles still has one. But that's neither here nor there.
My real point is that THAT Farrell's is having their customers cast their votes for President and Vice-President by selecting an ice cream sundae made of a combination of the favorite flavors of each political duo.
The Obama-Biden sundae is a combination of Senator Barack Obama's mint ice cream combined with Senator Joe Biden's favorites of chocolate and vanilla. There are mounds of hot fudge, whipped cream and it's topped with two American Flags and a Farrell's pig bank complete with red lips.
The McCain-Palin sundae includes Senator John McCain's favorites of chocolate and vanilla along with Governor Palin's choice of moosetracks which is vanilla ice cream with crushed peanut butter cups with a dash of caramel and hot fudge. It will be topped with whipped cream, two American flags and two candy lipsticks.
Said Paul Kramer of Parlour Enterprises, "Senator Obama's comment about putting lipstick on a pig and Governor Palin's joke about lipstick being the difference between an pit bull and hockey mom couldn't be left alone!"
Each time a candidate's sundae is purchased, it will count as a vote for that team. The votes are being tracked on a scoreboard installed in the ice cream parlor.
With our principle of neutrality, I don't much care who's winning (it's McCain right now), but I do care that Farrell's is donating $1.00 from each sundae to the Red Cross Disaster Relief Fund in the name of each candidate.
Man, I miss Farrell's. If you miss it as well, I'd encourage you to check out this site, which has an extensive history of the company with tons of photos. Very cool!