Legislation Passes; $130M Heading Our Way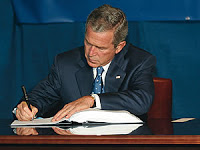 We received some very exciting news this morning…I'll let GMcG share it with you:
"In response to our request, Congress has passed legislation that includes a $100 million appropriation for Red Cross disaster relief and an additional $30 million for Red Cross Service to the Armed Forces (SAF). President Bush signed it into law late yesterday.

The $30 million federal appropriation for SAF will be used to help extend emergency services to members of the Armed Services and their families.

The $100 million for disaster relief is the largest appropriation that the Red Cross has ever received. It will reimburse us for relief and recovery expenditures and emergency services associated with the major disasters of 2008.

We are extremely grateful to the Congress and the President for passing this funding. I can tell you from my round of visits to Capitol Hill that members of Congress were moved by the stories of families we are helping and that the Red Cross, despite financial challenges, has continued to respond effectively.
While the money we receive from the federal government will go a long way toward helping us cover the costs of disasters this year, we cannot rely on federal dollars alone. We still need to reach our goal of raising $100 million by the end of the year."
One important thing that Gail didn't mention is that the Red Cross is not a government agency. While these federal funds fill an important need, they represent less than 5 percent of our total revenues. Most of the money we need to carry out our mission comes from the generosity of the American people, folks just like you.
Interested? You can always go right here and help.
P.S. I'm pretty sure this is the statement from the Prez…