Oregon Trail Chapter CEO Abducted by Aliens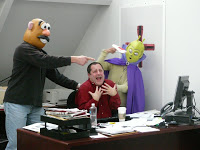 Here is the proof; our "fearless" leader has been abducted by aliens. His whereabouts are unknown. There is a clone now occupying his office which explains a lot of recent behaviors.
The numerous recent trips to less populated parts of the state put him at risk of this abduction, he should have known.
It can be assured that on the 31st of this month many more unusual characters will be seen wandering the halls. After this our fearless leader should return and with it, some manner of normalcy in the workplace as well. At least we can hope…