Which Campaign Is This Non-Partisan Agency Voting For?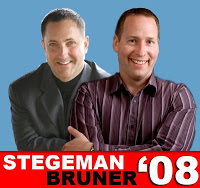 You thought you could get away from Election Day coverage by reading this non-partisan blog, huh?
WRONG!
Today is the kick-off for
Campaign Red
, our annual employee giving campaign. And since it's Election Day, we decided to have a bit of fun by putting
our two CEOs
' photos on some campaign-style buttons. That's our
Oregon Trail Chapter
CEO, Thomas Bruner, and our
Pacific Northwest Regional Blood Services
CEO, Steve Stegeman. We're all going to wear the buttons at our big kick-off rally this afternoon. It should get a good laugh.
Also,
while we're talking about voting
… 
After you've cast your ballot today, and you're already on a roll with the whole voting thing, why not hop on over to Facebook and
vote for the Red Cross
in the
Our World Gives
campaign!