It's Raining, It's Pouring…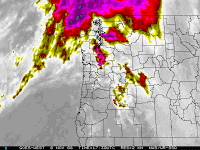 If you're a skier, you're probably loving the fact that there's tons of snow coming down in the mountains. But if you're into disaster preparedness, there's no doubt you look at this kind of weather with a different eye.
Often, snow up above means rain down below. And the next few days will bring exactly that for Northwest Oregon and Southwest Washington.
According to the National Weather Service, we should expect around .5 – .75" through Thursday evening, another .15 – .25" from Thursday evening to Friday evening, and another 1 – 1.25" Friday evening through Saturday evening. While the Tualatin River and the tributaries should be able to handle the rain, flooding of streets and low-lying areas is possible.
Don't know how to prepare for flooding? Now you do!