Know The Top 5 Toy Hazards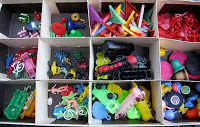 Here at the Oregon Trail Chapter, we're all about keeping people safe. Safe in the water, safe when cooking turkeys and — today — safe from deadly toys.
And you thought toys were all fun and games, huh? Wrong. Couldn't be further from the truth.
In reality, there are lots of toy dangers. In fact, the U.S. Consumer Product Safety Commission (CPSC) reports 18 toy-related deaths and about 170,100 hospital emergency-room treated toy-related injuries to children under 15, just in 2007.
So what should you be watching out for? Here are the Top 5 Toy Hazards:
Riding toys, skateboards and in-line skates go fast and falls could be deadly. Helmets and safety gear should be worn at all times and be sized to fit.
For children younger than age three, avoid toys with small parts, which can cause choking.
Children under eight yrs. can choke or suffocate on un-inflated or broken balloons. Keep un-inflated balloons from children. Discard broken balloons at once.
For children under age six, avoid building or play sets with small magnets. If magnets or pieces with magnets are swallowed, serious injuries and/or death can occur.
Charging batteries should be supervised by adults. Chargers and adapters can pose thermal burn hazards to children.
With all the choking/swallowing on this list, seems like a good time to remind you that we'll show you how to do abdominal thrusts in our first aid classes. If you're a parent and thinking about deadly toys scares the bejeesus out of you, maybe you should consider signing up.
Photo courtesy of One Good Bumblebee