Google Tracks Flu Trends Faster Than CDC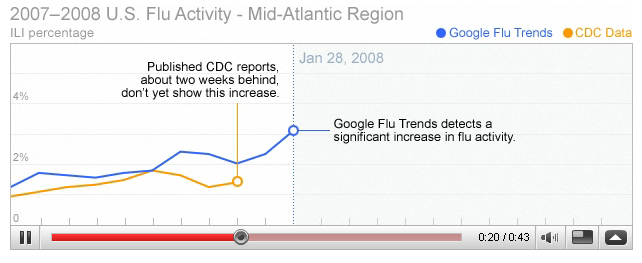 One of the disasters we prepare for (see
pg. 26 of this booklet
) is pandemic flu. (
Or "pan flu" as it's called in preparedness jargon. Although, I think that sounds like either a cooking utensil ailment or bad case of

this instrument

. But I digress…
)
One of the biggest challenges in dealing with pandemic flu (or even regular flu) is figuring out where and how fast it's spreading. So I'm pretty much in awe of the new
Google Flu Trends
. Apparently by monitoring occurrences of flu-related search terms, they are now able to track flu trends up to
two weeks faster
than the Centers for Disease Control and Prevention (CDC). 
And even though it's just search terms, and not actual reported cases, the data turns out to
match up accurately
to CDC data.
Says Google:
It turns out that traditional flu surveillance systems take 1-2 weeks to collect and release surveillance data, but Google search queries can be automatically counted very quickly. By making our flu estimates available each day, Google Flu Trends may provide an early-warning system for outbreaks of influenza.
…Our up-to-date influenza estimates may enable public health officials and health professionals to better respond to seasonal epidemics and — though we hope never to find out — pandemics.
See here for more about how they do it (and a really cool video timeline).