SAFE: Design Takes On Risk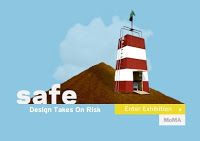 Let me say that the Museum of Modern Art's SAFE: Design Takes On Risk exhibit is worth about 100 blog postings. But before I launch into the first of many, a little background.
If you've been around the Oregon Trail Chapter for a while, you know that we're the original developers of the safety tube, a tiny powerhouse that was picked up by NHQ and is — to this day — sold nationally for just about $5. You can buy your own right here.
Anyway, the tube was so well thought of that it wound up in MOMA's exhibit back in 2005. For some reason this has been top of mind twice in the past two days, so I did a little Google-ing. Lo and behold, the virtual version of the exhibit is still online and available for you to check out at any time.
Since you already know of my love for well-designed preparedness products, you can only imagine the love I have for this exhibit. In a moment, I'll give you my first post that touts the awesomeness of the designs included. Expect many more in the future!